Congrats to Bridge Magazine, an online journalism venture from the Center for Michigan (which describes itself as a "think-and-do tank"), for doing some enterprise arts journalism: A recent article looks at the state of museums around the state of Michigan, obviously using the hook of the woes posed by Detroit's bankruptcy to the Detroit Institute of Arts.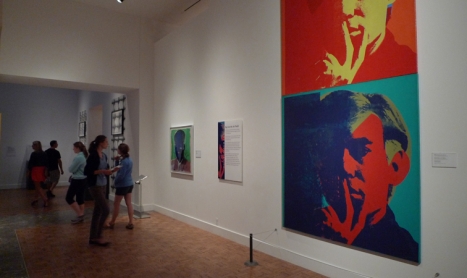 Using the case of the Flint Institute of Arts (at right) as its lead, author Nancy Derringer writes:
Which may go to show that even in a blue-collar city in a blue-collar state, there is still something special about art – even as that art is potentially imperiled by cities' fiscal implosions.

The Detroit Institute of Arts is gathering most of the media attention paid to the state's cultural sector these days as the DIA works furiously to protect its assets from being swept up in Detroit's municipal bankruptcy proceedings. The foreboding publicity has been good for business this summer. DIA Director Graham Beal notes that attendance was 10,000 in a recent summer week, compared to a more typical 3,000-4,000, and just 2,000 two years ago. …

Michigan's other art museums appear to have capably weathered the recession.
Among her findings:
Eli and Edythe Broad Art Museum, Michigan State, where ""optimistic" annual attendance goal of 100,000 was reached in nine months."
Kalamazoo Institute of Arts, where no layoffs occurred though there were salary cuts that are now "coming back."
Grand Rapids, where "a new building opening in 2007, and Art Prize's debut in 2009, kept bodies moving through the front doors.
Muskegon, whose museum director describes it as "a scrappy town on its best day," is finishing an 18-month endowment drive and its staff expects to reach its $7.5 million goal easily."
The Flint Institute of Arts, whose director says, "We're doing collectively $12-13 million a year in programming, much of which is free or subsidized."
The article mentions a few small difficulties and notes that the Muskegon museum, which "has always functioned as a part of the Muskegon Public Schools," is now changing that:
Although the museum has a separate ownership board, it is taking no chances. The institution is going forward with plans to separate entirely from the schools in 2014.
As a sidebar, there's a "Why Go?" piece giving particulars for each museum mentioned.
The article sounds a positive note on the DIA, saying "In the state's largest city, none of the art-world specialists expect the DIA to be hollowed out by Detroit's fiscal problems, although the perceived threat is being taken seriously."
Let's hope.
Photo Credit: Courtesy of Bridge