I've often written here about the need for museums to adapt their hours to today's lifestyles — and usually that has meant a call for adding more evening hours. Most museum-goers, aside from school children, now work, I believe, and can't get to a museum between 9 and 5 (and sometimes museums hours are even more constricted to 10 or 11 to 4!).
But, as the Museum of Modern Art just reminded me, I've neglected mornings. Some workdays begin at 10 a.m. nowadays. Given the opportunity, some people might stop by an urban, well-located museum on their way to work.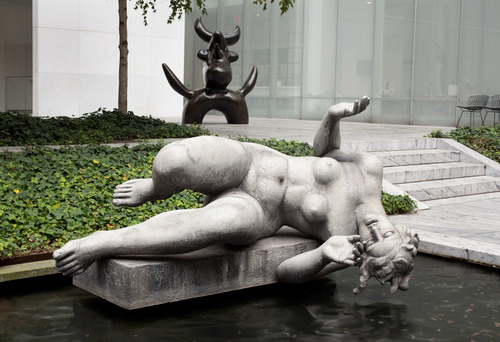 So MoMA is trying a variation on opening early: free access to its Sculpture Garden every morning from 9 a.m. to 10:15 a.m. That gives the museum 15 minutes to clear the garden before its galleries open, at 10:30. As MoMA writes in its press release:
Beginning September 9, The Museum of Modern Art's Abby Aldrich Rockefeller Sculpture Garden will be open free of charge to the general public daily, from 9:00 to 10:15 a.m., allowing New Yorkers and visitors alike to start their day in one of the city's most beloved outdoor spaces. The public can enter the Sculpture Garden directly through the west gate on West 54 Street, between Fifth and Sixth avenues. Coffee and beverages will be available for purchase.
Weather permitting, MoMA intends to offer this chance year-round.
This move is good for tourists, too: Often, they have nothing to do right after breakfast. I've worked (and still do) in or near Rockefeller Center and Times Square for much of my life in New York, and I often see tourists out early looking for something to do in the morning. Aside from the greenery, among the works they can now see are Barnett Newman's Broken Obelisk (1967), Picasso's Monument (1972) and She-Goat (1950), Katharina Fritsch's Figurengruppe/Group of Figures (2006–08),  Miró's Moonbird (1966), and works by Alberto Giacometti, Henri Matisse, Mark di Suvero, Tony Smith, and others.
MoMA, as you'll remember, is now open seven days a week, just like the Met. MoMA is closed on Thanksgiving and Christmas, as is the Met, which is also closed on January 1 and the first Monday in May (not sure why that is).
Good thinking, MoMA.
Photo Credit: Courtesy of MoMA