There are many reasons to admire the artist-provocateur Ai Weiwei and now I've learned of another. In conjunction with his show at the Art Gallery of Ontario, Ai Weiwei According to What?, the man is going to do a live video chat with the museum's visitors on Sept. 5. The AGO's director and CEO, Matthew Teitelbaum, will be asking the questions — or at least moderating (the announcement is a little unclear on that).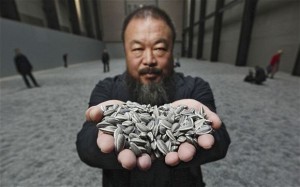 Not too many artists would do this, imho. I've spoken with quite a few who evade questions and say things like "the art speaks for itself."
But according to the Teitelbaum, Ai will "share his insights into his art, activism and passion for China and its changing landscape." He continued: "As we open this major exhibition, Weiwei's physical absence is deeply felt, but technology allows him to defy borders so we can welcome him personally to Toronto." The chat will take place during the AGO's First Thursdays art parties.
This is the same show that was at the Hirshhorn Museum earlier this year, then went to Indianapolis and will eventually get to Miami and Brooklyn. It's an updated version of the show at the Mori Museum in Tokyo in 2009.
In Toronto, it includes more than 40 large-scale works and, says the AGO, "the exhibition blends art history, activism and traditional Chinese materials and symbols to create a compelling vision of the artist's everyday reality and his ongoing fight for freedom of expression in the face of Chinese government censorship."
Kudos to whoever thought of the chat, and to the never-shy Ai for doing it.