This is a little ghoulish, admittedly, but a company Earthcam, which calls itself "the global leader in providing webcam content, technology and services," has been launching some arts-related project lately, and tonight at midnight, the newest one goes live. It will mark what would have been Andy Warhol's 85th birthday, had he lived this long.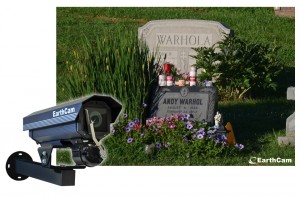 In "celebration," as the press release says, Earthcam has organized an interactive multimedia project with the Warhol Museum. The elements:
A live feed with sound available 24/7 at Andy's grave
HD 16 megapixel gravesite images updating every 15 minutes
One-of-a kind artwork with Warholian image effects and color pallets integrated into gravesite snapshots
A live streaming webcam with sound in the church where Andy was baptized, also available 24/7
The opportunity for people around the world to remember and interact with Andy by sending him a Campbell's Soup can or flowers and watch the gift delivered live to the grave.
You can see it here.
Earthcam's other main arts site are at Petra, Jordan, and at the Hagia Sophia, Instanbul. They are nice views of sites, especially Petra, not that easily accessible. The Warhol thing is a but gimmicky, but then again, wasn't Warhol too?