Ok, I exaggerate: The two are not really connected. But the news the other day that was posted online at the Wall Street Journal's Money Beat Blog is rather astonishing in the context of the Detroit bankruptcy, which threatens the Detroit Institute of Art's collection.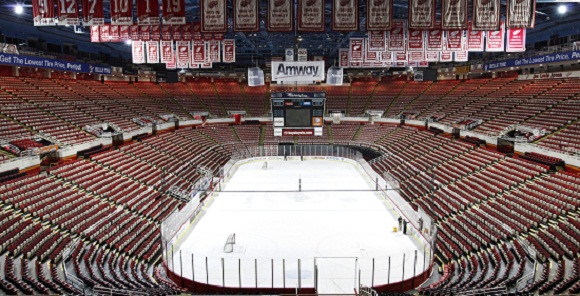 Before I tell give you the quote, big hat-tip to Hyperalleric.
Here's the story:
As Detroit settles in for a long, tortured trip through bankruptcy court, the public financing deal for a new arena to house the Red Wings will likely skate by intact….

Michigan's state legislature approved Wednesday a $450 million bond offering that would form the public backbone of Ilitch's Holding's $650 million entertainment center and development district near the heart of downtown Detroit.

The bonds will be floated by the Michigan Strategic Fund, which handles all of the state's private development funds. The public, $283 million portion of the bonds will come from the Downtown Development Authority, which earmarks a slice of downtown property taxes for reinvestment there. They both have investment-grade credit ratings and function independently of Detroit's city government, which makes their involvement in the deal important. Detroit's credit rating is somewhere between junk status and radioactive.

"This isn't a source of money that can be redirected to the city," [Brian] Holdwick [executive vice president for the Detroit Economic Growth Corporation] said. The private portion of the MSF bonds will come from Olympia Development of Michigan, which is run by Red Wings owner and sports-and-pizza mogul Mike Ilitch.
Ok, I get that — but does Holdwick understand the optics of this? In the midst of a city that may, or may not, be willing to strip its glorious art museum of its treasure, the state will help build a new stadium?
I will only cite for you evidence that stadiums never live up to their billing: here's an article from 2002 by economist Alan Krueger: The High Cost and Low Benefit of Sports Subsidies. Here is: As Stadiums Rise, So Do Costs to Taxpayers. I could go on, but the evidence is clear: these things do not ever deliver the benefits they promise.
Hyperallergic cites different evidence. This is not unclear.
Sports fans, judging by comments, are all for it. I cite one sane commenter:
Something I haven't been able to find through using various search engines, is, what the heck is wrong with their current stadium that justifies wasting money on a new one?…
The evidence rests.