Two bits of news this week got me thinking about the Hopper market. First, Crystal Bridges Museum announced that it had purchased Blackwell's Island, which will soon go on view in its early 20th Century gallery. Great addition, I thought. Painted in 1928, it is a view of what is now known as Roosevelt Island, just off midtown Manhattan in the East River. It's a sizeable piece, measuring 34-1/2 inches by 59-1/2 inches.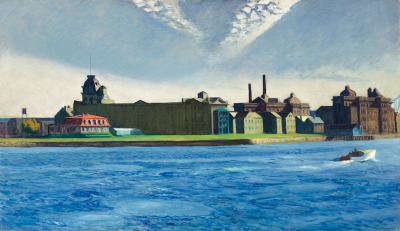 Said the museum's President Don Bacigalupi in the press release: "This is a most ambitious composition for Hopper. He painted this work at the height of his powers and it exemplifies some of the best of Hopper's style: a complex architectural composition with a full range of light and shadow, few people and the drama of the past colliding with the present in the form of historic architecture meeting modern." Previously owned by a private collector, the work has been exhibited at The Museum of Modern Art; The Whitney Museum of American Art; the Museum of Fine Arts, Boston; Pittsburgh's Carnegie Institute; the Art Institute of Chicago, and in the big retrospective for Hopper at the Grand Palais in Paris, which drew major crowds when it ran from October last year through February of this.
Though Crystal Bridges didn't announce the price, it was easy to discover that the painting sold at Christie's last May for nearly $19.2 million, including the commission, against a presale estimate of $15- to $20 million.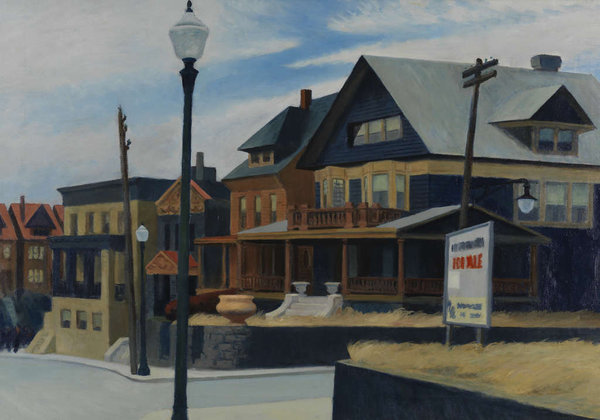 Then, within hours, the Pennsylvania Academy of Fine Arts announced that it was deaccessioning one of its two Hoppers,  East Wind over Weehawken, from 1934. Uh oh, I thought — would Crystal Bridges have wanted that one? It will also be offered at Christie's (in December) and its presale estimate is $22– to $28 million.
Uh oh, too, because although PAFA is planning to use the proceeds to fund an acquisitions endowment, "which will be used both to acquire contemporary artworks and to fill gaps in the collection of historic art," per its press release, Hopper is a very big star. It's like selling a Picasso or van Gogh, almost, as if one ever has too many. Although the sale meets museum ethics policies, it's worth noting that PAFA has only one other Hopper: Apartment Houses from 1923.
The PAFA Hopper is a bit smaller than Crystal Bridges's: 34 1/8 x 50 3/16 inches. PAFE director Harry Philbrick said he chose it for sale because "Hopper prices are rising fast in the marketplace. Also, the academy acquired the painting with its own money; no donor restrictions govern its disposition," according to the Philadelphia Inquirer.
So Christie's is being very aggressive here — probably hoping that the museum connection will draw higher bids than s. Both paintings are lovely, but which would you pay more for? We'll see in December.