Well, gee, it was interesting, and kind of fun, to visit MoMA last evening. I was invited to experience the Rain Room, part of a MoMA-PS 1 exhibition called Expo 1: New York, which is about the environment.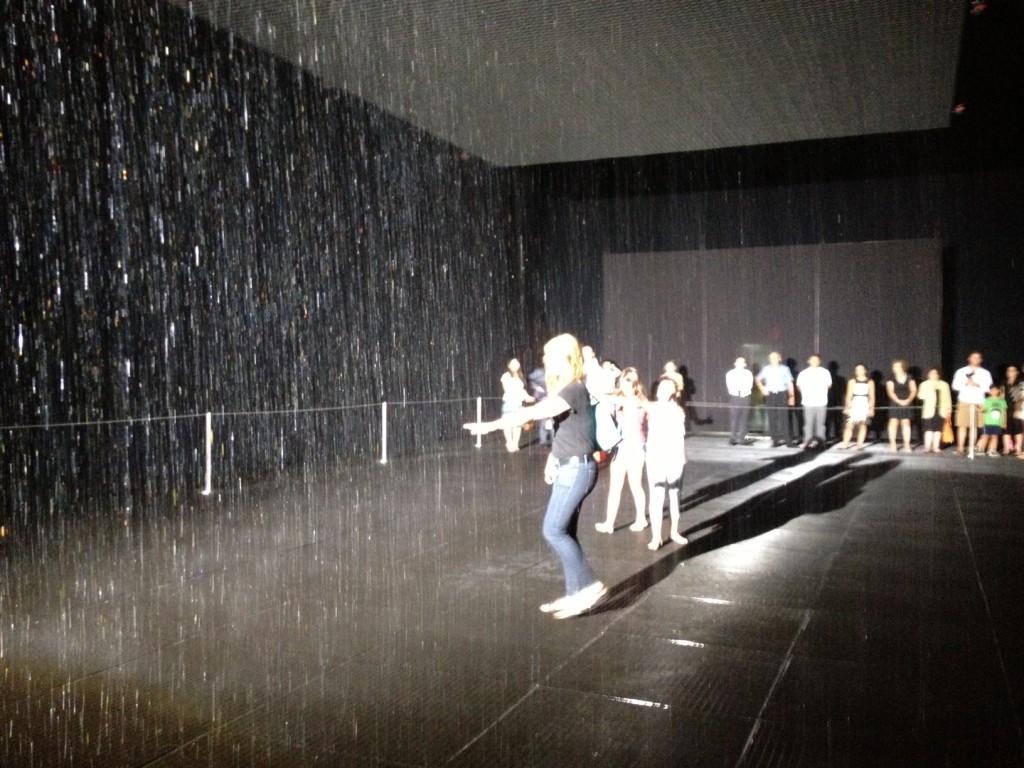 The installation — for surely, I cannot call it a piece of art — consists of a rectangular field in which water pours, like rain, from the ceiling, except when the cameras and sensors discover a person and discerns his or her movement. Then the water stops within a small radius, allowing visitors to experience rain without getting wet. Or, as MoMA puts it,  "Rain Room offers visitors the experience of controlling the rain."
I walked through it last night, and indeed — except for a few drops here and there — I remained dry. Don't walk too fast, though, or the cameras and digital controls can't adjust quickly enough. And don't wear black or a reflecting material, which also confuse things. Also, no more than 10 people can be in the room at the same time — it's too much for the controls to deal with in the limited space. Did I forget to say that it's dark, except for a bright light shining across the water?
Rain Room isn't by an artist; it's by Random International, described this way on its website:
Random create artworks and installations that explore behaviour and interaction, often using light and movement. Founded in 2005 by Stuart Wood, Florian Ortkrass and Hannes Koch, the studio utilises raw fragments of artificial intelligence to encourage relationships between the converging worlds of animate and inanimate. The studio is based in a converted warehouse in Chelsea, London and today includes a growing team of  diverse talent.
Rain Room had its debut at the Barbican in London. In New York, Rain Room has been erected in an empty parking lot next door to MoMA, west of the museum's entrance on 54th St. People have been lining up, sometimes for hours, to experience it, I've been told. At a certain point, they are turned away because they're not going to make it that day.
What is going on here, really? Rain Room is yet another attempt to draw new audiences who really don't care much for art. In this case, thank goodness, MoMA is not taking up any gallery space for this "immersive environment." But of course since visitors are not in proximity to MoMA's art, the museum can't argue that these new visitors may wander into a gallery with art and decide they like it. That argument for such installations falls apart.
UPDATE: I did forget to say one thing here: To visit Rain Room, you must buy a ticket to MoMA — so it does increase revenues and, having bought a ticket, people may visit the galleries.
Rain Room has another fashionable rationale: it's participatory, it's an experience, and young people like that. They don't like passive moments. The danger in that view is obvious: they won't go unless there's an experience. So who'll be in the galleries looking at real art? And what are museums training people to visit museums for?