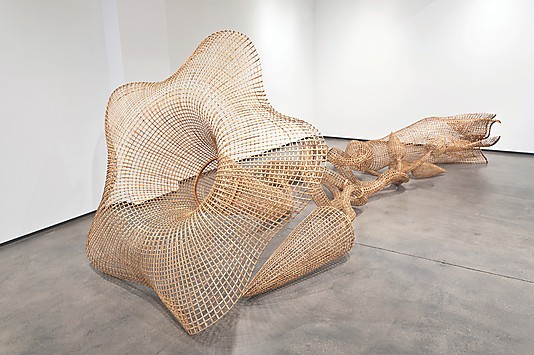 In case people are checking the web this weekend, I thought I'd mention an exhibit I caught today at the Metropolitan Museum — because it closes on Sunday, and this is your last chance. It's a small show of sculpture by Sopheap Pich, a Cambodian who was born in 1971 and lives and works in Phnom Penh. This is an artist who makes elegant, appealing works packed with meaning.
Consider his beautiful Morning Glory (at left), for example, a large piece made of rattan, bamboo, wire, plywood, steel bolts. But the beauty is doubly poignant and doubly powerful when you realize that Pich has chosen his subject because during Pol Pot's reign, morning glories were the main source of nourishment for the population other than rice. Says Pich in his statement:
Because it is the easiest plant to grow, it became the vegetable of almost every meal. Cambodians ate so much morning glory it is surprising that we still eat it today. I think it must be one of the lowest in the culinary food chain; the flower of the morning glory has almost no nutritional value at all. It also dies very quickly after being picked. It has a beautiful shape though—having the shape of the iconic RCA phonograph. My idea was simple: to make a gigantic portrait of the morning glory plant with flowers as the best way possible to commemorate its importance to me.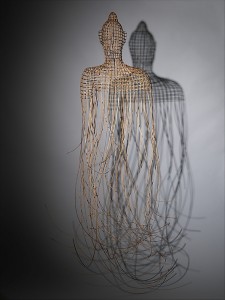 Smartly, the Guggenheim Museum acquired Morning Glory this year.
The Met owns a less spectacular but still lovely and quite haunting piece called Buddha 2 (at right).
The exhibition rambled a little, strung out in several galleries amid other art works — which was a double-edged tactic. It added context, but was less cohesive than a typical installation and, I believe, may have caused some people to miss parts of the show.
But that's a quibble. In this particular case, the Met's contemporary staff is right on target, not late at all.
You can see more text and images on the Met's site, and in Art in America's May issue (the online version has a slide show), which shows a spectacular piece called Compound that is, alas, not in the Met exhibition.
I suspect, and hope, that we'll be seeing more of this artist.
Photo Credits: Courtesy of the Metropolitan Museum
*I consult to a foundation that supports the Met