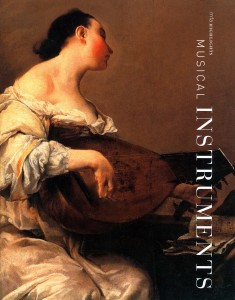 I'm writing just a quickie on this, because there's a time limit. About six weeks ago, I received an interesting press release from the Museum of Fine Arts in Boston, headlined MFA PUBLICATIONS DEBUTS ITS FIRST HIGHLIGHTS SERIES E-BOOKS, MUSICAL INSTRUMENTS AND ARTS OF KOREA. They were "full-color, multimedia-enhanced digital books," for $9.99 each. The musical instrument one seemed especially intriguing because it promised 25 audio and 23 video clips accompanying the text. It features more than 100 instruments in the museum's collection.
But I don't have an iPad, and I can't try it out myself. So the idea went to the back of my head until a friend recently brought it to my attention again — he called it "terrific" and told me that MFA is letting people try the book for free until Aug.1, which is Thursday.
I have written about the future of art publications and catalogues in a 2010 piece for The Art Newspaper headlined Cataloguing the Changes. It outlined some experiments.
Now MFA has a new one, a pretty good match between subject and format, so — you have three full days, at least, if you have an iPad, to try it free.
It's also available in softcover
Photo Credit: Courtesy of the MFA