Do you recognize the painting at right?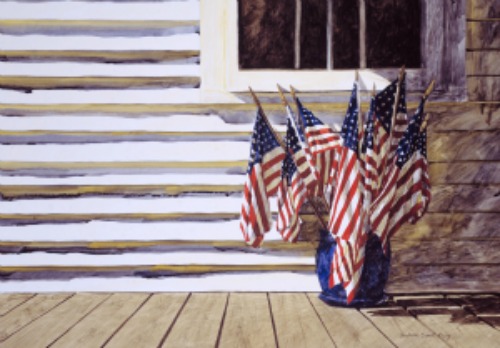 If so, congratulations — you are among the chosen invited to a gathering tomorrow by one of the American embassies around the world to celebrate Independence Day. Many invited their international counterparts and colleagues to share in "themed festivities" and they all use the same image for their invitations. This' year's choice is the painting at right. It's titled The Collection and was painted by Barbara Ernst Prey, an artist who lives in New York City. She also operates galleries in Williamstown, MA and Port Clyde, Maine, according to a press release highlighting the State Dept.'s choice this year.
Prey also designed the White House's 2003  Christmas card, and participates in the  ART in Embassies program, which places art works in embassies around the world. Hers have been shown in "Paris, Madrid, Oslo, Prague" and she has also lectured about American art around the world. She currently sits on the National Council on the Arts, the advisory board of the National Endowment for the Arts.
Prey specializes in "classic American landscapes," and (to me) exhibits the spirit of Norman Rockwell in her works. The announcement I received said that "two of Ms. Prey's paintings, Hydrangeas and Walker's Point, are currently on exhibit at the newly designed George W. Bush Presidential Library and Museum in Dallas, Texas. Private collectors of Ms. Prey's work include Orlando Bloom and Tom Hanks."
Photo Credit: Courtesy of Barbara Prey