The Vatican's first foray into the Venice Biennale this year isn't its only recent venture in the "contemporary" art world, if you define contemporary as state-of-the art: if you go to the Vatican Museums's Gregorian Etruscan Museum, you can now enter a digital recreation, sort of, of the Regolini-Galassi Etruscan tomb, a site northwest of Rome that was discovered in 1836 and dates to between 600 and 650 BC. Artifacts from the tomb, which included silver pieces, gold jewelry and bronze cauldrons, eventually were sold to the Vatican, and are now part of its museum collections.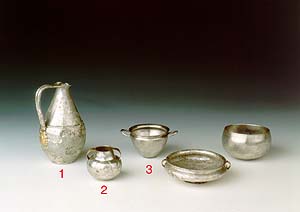 A recent article in ARTNews explained that the project, Etruscanning3D, uses new visualization techniques to "re-create, on a scientific basis, the original context of the Regolini-Galassi tomb as it likely looked more than 2,600 years ago. Motion sensors allow visitors to wander through the site while standing in front of a three-meter-wide, high-resolution screen, and a menu lets them choose nearby artifacts to examine more closely, from Egyptian-style sarcophagi to a black ceramic inkpot to a large golden fibula, or brooch, decorated with lions."
At the Vatican, the installation has two parts: a non-interactive film in Room II, where the objects from the tomb are on display. The film is a "virtual reconstruction of the tomb with the digitally restored objects integrated in the tomb.  In this way, the objects are shown in their original context in their original state…" according to the project's blog.
Then visitors proceed to Room XVI. There,
In the interactive application, the visitor navigates through the tomb and selects objects and their related stories through simple, natural gestures (such as right arm forward for moving forward) detected by a Kinect camera. When starting, the visitor can select a language (Italian, English, Dutch) and can practice the navigation and object selection when approaching the virtual tomb.  Once inside, the visitor can explore the entrance, antechamber, cella, left and right niche of the tomb with all its objects in place, select specific objects and listen to the stories connected to the objects.  This video shows how it works in English or Italian.
If you are on the West Coast this month, you can get a taste of that. Etruscanning3D has become part of a project called Italia del Futuro, an "exhibition on some of the most significant Italian scientific and technological excellence," in the cultural heritage and archaeology division. This exhibition is touring the world this year and soon lands in San Francisco (July 12 – August 23) and Los Angeles (September 5 – October 4) as part of Italy's Year of Culture.
If not, you can watch a video about it here — though, admittedly, it's not the  best advertisement for this technology, which we will no doubt be seeing more of in the future.
Photo Credit: Courtesy of the Vatican Museums