There is something about enamel on copper that has always appealed to me. The clarity and the intensity of the color stand out. So I was thrilled just now to catch up on my museum reading and learn that the Cleveland Museum of Art has a acquired a copy of a Titian on enamel.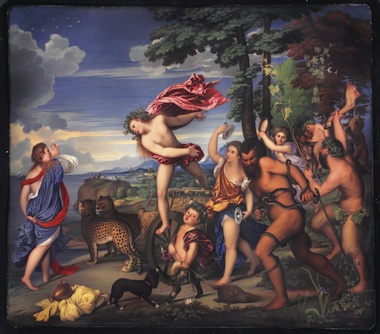 You heard that right; it's a copy, and at first I thought, what? Why would Cleveland, home to a collection of gems — limited but all high quality — want a copy? Then I saw it — even a picture of it is outstanding (at right). Imagine what it looks like in person.
Christie's London offered the work, a 16-by-18 inch painting made in 1811 by Henry Bone of England, who copied Titian's 16th-century masterpiece Bacchus and Ariadne on copper, in its Fourth of July Exceptional sale. Cleveland curator Jon Seydl bid for it by phone from a London hotel. Calling is a highlight of the sale, here's what Christie's said in its post-sale release:
An enamel plaque by Henry Bone, R.A. (1755 – 1834) depicting Bacchus and Ariadne, the artist's largest and greatest work, realised £313,875/$478,346/€367,548 (estimate: £80,000 – 120,000) setting a world auction record price for a work by the artist at auction. Henry Bone's success as an enamellist was cemented when he was officially appointed Enamel Painter to the Prince of Wales, later Prince Regent, and to George III. Bacchus and Ariadne was purchased by George Bowles, an enthusiastic collector of Bone's work, from the artist for 2,200 guineas in 1811.
Unfortunately, I cannot convert 1811 guineas to dollars today…but clearly Seydl wasn't the only person with an eye for Bone.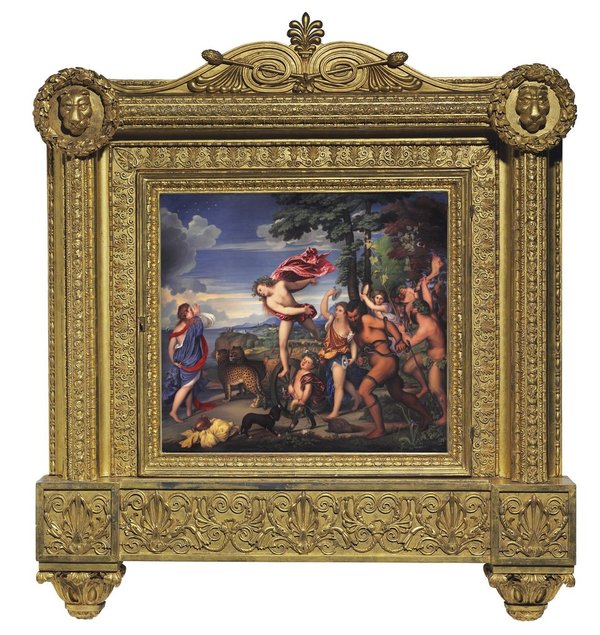 The Cleveland Plain Dealer caught up with the news yesterday, writing:
"I was so excited!" Seydl said today in Cleveland. "This is so unique. Thousands of people went to see this work in his [Bone's] studio. It was a huge sensation in his day." …

…The dimensions of the enamel don't include the work's elaborate gilt-wood and gesso frame, which features neoclassical motifs including palmettes, oak-leaf clusters, leopard heads and acanthus leaves. [at left]

"It has a lot of presence as a thing," Seydl said. "It's perfect. It's as showy and grand as the enamel itself." …

…"It's not just a copy, but an enormous technical achievement on its own," Seydl said of the Bone. "You want works by this incredible enamellist, who is literally doing something that had not been done before."

Enamels are produced by fusing glass to metal under high heat. For each color in Bone's version of the Titian, the artist had to reheat the copper plate numerous times, a process that risked destroying previous applications of enamel if the plate were overheated.

"To do something this complicated and to keep it from cracking, splitting or breaking is in itself an accomplishment," Seydl said.
The work and the frame are both fragile, and there's one more hurdle: the museum has to procure an export license from British authorities. Let's hope that, unlike a few recent examples, this one is allowed quickly and easily.
BTW, the Cleveland Museum announced other recent acquisitions several weeks ago, including a Max Beckmann.
Photo Credit: Courtesy of the Plain Dealer