Sometimes, the news just induces a cringe, and that is what happened to me today when I caught up with an article in yesterday's Washington Post headlined Hirshhorn Museum's board of trustees chairman resigns. Can it get any worse for the Hirshhorn?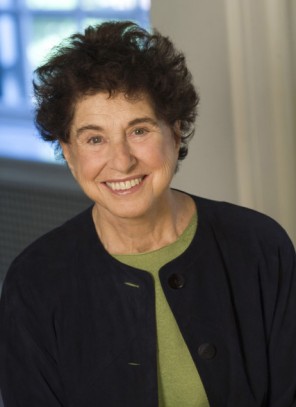 The last chair, J. Tomilson Hill, resigned last fall, and Constance Caplan, the new resignee (at left), is the Hirshhorn's seventh board member to depart in this round of turmoil. The museum's director, Richard Koshalek, "resigned" when the board did not back his concept for building a seasonal blue bubble atop the museum as a cultural think tank (his contract was not renewed, a board member told me). He left in May, and the Smithsonian — parent of the Hirshhorn — then named Kerry Brougher as Acting Director, while they look around for a new director.
Caplan's resignation may actually be a good thing, because she was in favor of the bubble, which much of the rest of the board opposed (sensibly, imho). However, she didn't go quietly. In her memo of resignation, according to the Post — which you can see here — she leveled this accusation:
…What disturbs me is the contentious manner and lack of inclusiveness with which a number of trustees and staff associated with the Hirshhorn and the Smithsonian have behaved over the past year — factors that also led to the resignations of the prior Board Chair, the Director, and several key Trustees — and persistent indications that this behavior will only continue….

What I would expect at the Hirshhorn, however, is that as with all of the other leading nonprofit boards on which I have served, an open and candid decision — making process would prevail between our Trustees, as well as between the Board and the Smithsonian as the Museum's parent organization.  Yet as we have all seen in recent months, this has certainly not been the case, as witnessed by the shocking breaches in confidentiality, inappropriate interruptions during Board meetings, and other negative behavior.  In terms of decision-making as well, I was also disappointed that the full Hirshhorn Board was not given the opportunity by the Smithsonian to carefully review and be apprised of the appointment of the Interim Director in advance — a routine courtesy at other leading institutions, and our board's right as stewards of the Museum and finally the utter disregard of my involvement in setting agendas, meeting dates and Trustee activities of the Board. [That's all verbatim from the Post; mistakes hers/theirs.]
If this is all true, the Hirshhorn is in an even worse position than I thought. But then Caplan continues:
…of even greater concern to me is the fundamental direction that I now see the Hirshhorn taking, with both overt and tacit approval by the Smithsonian:  a regression to programming that imitates a predictable pattern at many other modern and contemporary museums. …I see the Hirshhorn abruptly regressing from the vision of serving as "the nation's museum of contemporary art" — a vision especially appropriate to its splendid, unique setting — retreating at a time when precisely because of the challenges at hand, this larger role is more important than ever.
Caplan did not refer to the bubble here, and if that's what she's hinting at, I beg to disagree.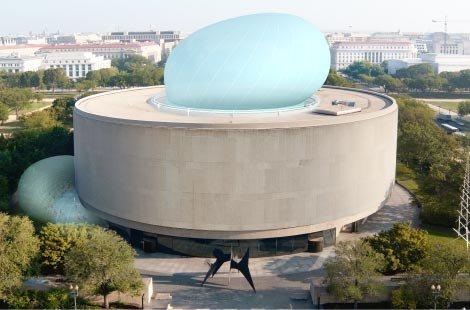 It's true, however, that the Hirshhorn does not really have a niche. It's contemporary and it has some good things in its collection, but let's face it, not very many great works of art. It has needed a better identity, a reason for visiting, for a long time. It has needed better programming. Clearly, it needs visionary management, but also realistic management.
Once again, Smithsonian management is not handling this well. Smithsonian Undersecretary Richard Kurin's comments in the Washington Post — read them at this link — do not inspire. A search committee for the director's job has yet to be named — though that is supposed to happen next week.
But there's no time to lose here. A leaderless museum with a divided board is a disaster.
Photo Credits" Courtesy of the Washington Post (top)