Regular readers of RCA know that I love Old Master sculpture, and they may perhaps remember that a couple of times in the past I have lauded the Palazzo Strozzi in Florence for its excellent exhibitions. Now those two threads have come together, as the Palazzo is currently showing The Springtime of the Renaissance: Sculpture and the Arts in Florence, 1400 – 1460. And here is a payoff: the show, after closing in Florence on Aug. 18, will move to the Louvre, from Sept. 23 through Jan. 6, 2014.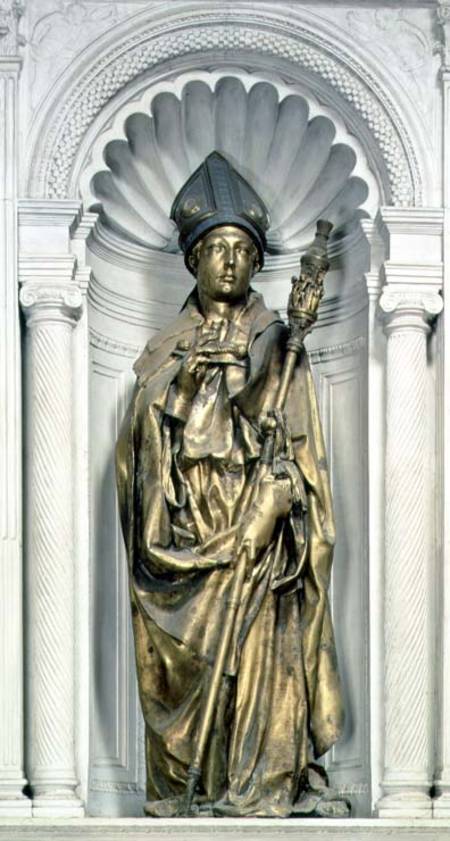 That's a pretty nice endorsement, in part because the Palazzo Strozzi doesn't have its own curatorial staff to brainstorm or organize, but rather relies on hiring outsiders. In this case, that meant Beatrice Paolozzi Strozzi, director of the Bargello, and Marc Borman, curator of sculpture at the Louvre. (Their names need no explanation or embellishment.)
The premise of this exhibition is that the "miracle" of the Renaissance occurred predominantly through sculptural masterpieces. Among the artists whose works are on view are Ghiberti, Donatello, Lippi, Brunelleschi and Mino da Fiesoli. It has ten sections, starting with "The Legacy of the Fathers" and ending with "From City to Palace: The New Patrons of the Arts." Loans, meanwhile came from all over — the V & A, the Bode, the NGA in Washington, in particular.
But I won't repeat what is in the website material; it's here.
The Palazzo Strozzi excels in putting a lot of material online, including, in this case, the wall texts, all 48 pages (one question: why green?), an exhibition walk-through — and other things (layout, conservation activities for this show, etc.) that you'll see at the link above. Speaking of conservation, one of the most significant initiatives here was the restoration of Donatello's St. Louis of Toulouse, 1425, from Santa Croce (pictured here).
Now, a couple of these pieces were in the Metropolitan Museum's The Renaissance Portrait from Donatello to Bellini last year, I think. I am particularly thinking of Marietta Strozzi by Desiderio da Settignano, but that one is certainly explainable. And the Met show included 160 items, with more paintings than sculpture, I think — this one has 140 pieces, all sculpture.
I wish I were there to see it, but I all have is the next best thing — the catalogue, which comes in at 550 pages. It's going to keep me busy for some while.
Photo Credit: Courtesy of Museo dell l'Opera di Santa Croce