Sometimes, but not all that often, a museum satellite does make sense. Later this week, we'll see the opening of one that does. Friday is opening day for Philbrook Downtown, an industrial space in the Brady Arts District of Tulsa that the museum is turning into a new arts center.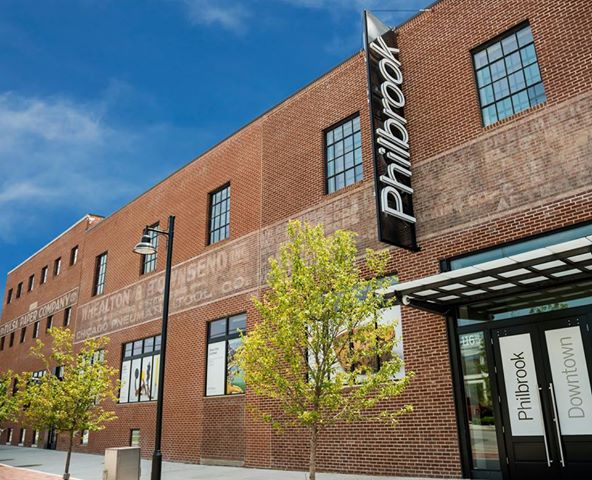 The Philbrook itself, a villa built in the 1920s on a 23-acre site, makes for a lovely house museum, with spacious rooms and wide corridors. I visited about seven years ago, and was impressed with the overall feel (though I don't remember any masterpieces). And I loved the grounds and garden.
But it's true that modern, contemporary art and Native American art probably don't look their best there. They'll go into the new building, for which architect Richard Gluckman has taken an early 20th-century industrial warehouse and turned it into an art center of 30,000 sq. ft. Contemporary art and new media will go on the first floor, and Native American art will go upstairs. Near those galleries will go the Eugene B. Adkins Study Center, which "integrates Philbrook's outstanding artwork, special collections from the  Museum's H. A. & Mary K. Chapman Library, and Eugene Adkins's personal archives." I'm not sure what that means, but we'll find out.
The inaugural exhibits for Philbrook Downtown will be "Opening Abstraction" – abstract paintings and sculpture from 1945 to the present drawn from the permanent collection, on display on the first floor – and "Identity and Inspiration: 20th Century Native American Art," which presents items from the museum's extensive holdings of American Indian art in a uniquely thematic way in the main gallery space on the second floor.

Also on display in the smaller galleries will be "Adolph Gottlieb: Sculptor," showcasing a little-seen facet of the work of this pioneering abstract artist, and "Sirens of the Southwest," featuring works by influential women artists who lived and worked in this region of the country, including Georgia O'Keeffe.
The addition also gets the Philbrook, which can seem a little remote, into Tulsa's downtown, which I recall as full of art deco buildings and touches. That is likely to mean a new audience, patrons of the existing Brady Arts District, an old section of Tulsa that claims to be "rich with cultural icons such as the Cain's Ballroom and the Ole Lady on Brady. The buildings in the area that are still standing are primarily red brick and have been utilized as warehouses." Over the past 20 years, it has gentrified and attracted new cultural institutions.
So while I think some satellites don't add much more than costs — and it's harder to manage two spaces than one — the Philbrook Downtown seems to add a new dimension and to have a real purpose, not just expansion. Let's see how it all turns out.
Meantime, here's what NewsOn6 in Tulsa is saying and check out the slide show with the Tulsa World article.
Photo Credit: Courtesy of the Philbrook