Some people agree with Richard Koshalek, departing director of the Hirshhorn Museum in Washington, D.C., that the world could use a cultural think tank, perhaps even one in an inflatable bubble. Just see the comment from Luis R. Cancel after my last post on the Bubble idea that was killed last week by the Smithsonian. In my opinion, the idea that Koshalek described to me in 2010 was impractical and unlikely to lead to a cultural policy or change (except perhaps for the participants — as with Davos and TED talks, ideas were to be exchanged, but networking opportunities were a key reason people would have attended).
So it will come as good news to them that Koshalek isn't giving up. Rather, when he leaves the Hirshhorn later this month, he plans to head to the west coast and try to sell the idea, in a diminished form, to a university in Southern California or somewhere else in the country. Jori Finkel of the Los Angeles Times got the story last week, noting that he's "floating…a similar but less expensive pop-up space…He calls it a "Tech Tent" and describes it as a near-sister of the Bubble."
The article continues:
There has been interest from university presidents in developing a similar concept to foster public dialogue within the academic setting, [Koshalek] said, noting that the tent would also be "packed with information technology" to serve that community.

Although he has not firmed up an architect yet, he predicted that this idea would be easier to realize than the Bubble, which had to reach 15 stories to fit into existing Hirshhorn architecture. "It would be less expensive to build and to put up and take down — also  less expensive to run because half of the participants in programs are already there on university campuses."
I'm not sure why this idea needs a new space (a few event tents are posted here, but presumably they would not be substantial enough) — universities have plenty of places for meetings and speeches — but maybe he will pull it off.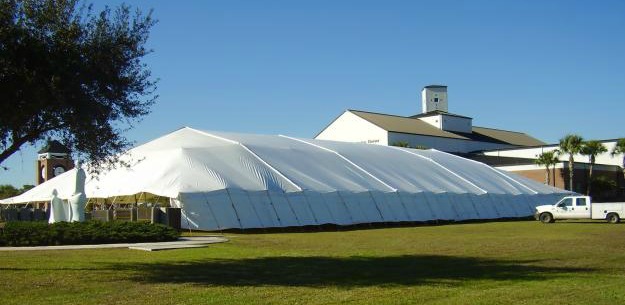 More interesting, to me, is that Finkel asked him about an idea I first proposed here in March: LA-MOCA should retire director Jeffrey Deitch and bring in Koshalek, who ran the museum in the '80s and 90s, as interim director until they can find a long-term managerial solution to their woes.
And what about rumors that he might take on the job of MOCA director if current head Jeffrey Deitch steps down? He said he has had conversations with museum leaders about the beleaguered institution's next steps but would not discuss details.

"I don't think I would return as director," he added. "But if there's the possibility that I could make a contribution in some other form, I would seriously consider it."
That's a yes, trustees.