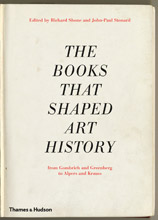 Summer's almost here, and you plan to catch up on your art history, right? All those seminal books you've never read. Or maybe you just want to learn, and perhaps understand, more about the history of the visual arts.
A new book has come to the rescue: instead of reading everything on your wish list, you can instead turn to The Books That Shaped Art History, edited by Richard Stone and John-Paul Stonard and published in March in the U.K. by Thames & Hudson. It provides essays, commissioned by The Burlington Magazine, on 16 foundational texts in art history. And what might they be? In alphabetical order, by author:
The Art of Describing: Dutch Art in the 17th Century, by Svetlana Alpers
Matisse: His Art and His Public, by Alfred Barr
Painting and Experience in Fifteenth Century Italy, by Michael Baxandall
Likeness and Presence: A History of the Image before the Era of Art, by Hans Belting
The Drawings of the Florentine Painters, by Bernard Berenson
The Nude: A Study of Ideal Art, by Kenneth Clark
Image of the People: Gustave Courbet and the 1848 Revolution, by T.J. Clarke
Cezanne: A Study of His Development, by Roger Fry
Art and Illusion, by Ernst Gombrich
Art & Culture, by Clement Greenberg
Patrons and Painters: A Study in the Relations Between Italian Art and Society in the Age of the Baroque, by Francis Haskell
Religious Art of 13th Century France: A Study of the Iconography of the Middle Ages and Its Sources of Inspiration, by Emile Mâle
Principles of Art History, by Heinrich Wölfflin
Early Nederlandish Paintings, by Erwin Panofsky
Pioneers of the Modern Movement, by Nikolaus Pevsner
Originality of the Avant-Garde and Other Modernist Myths, by Rosalind Krauss
In publishing this book, T&H writes:
An introduction by John-Paul Stonard explores how art history has been forged by these outstanding contributions, as well as by the dialogues and ruptures between them. Supplementary documentation summarises the achievements of each art historian and provides a detailed publication history 
of their texts, with suggestions for further reading.
Then:
Each chapter – with writers including John Elderfield, Boris Groys, Susie Nash and Richard Verdi – analyses a single major book, setting out its premises and argument and mapping the intellectual development of its author, discussing its position within the field of art history, and looking at its significance in 
the context both of its initial reception and its legacy.
This is a good idea, especially for non-academics. We don't have to read all of those volumes. Better yet, while I have not perused the book myself, it has been well-received.
When The Guardian reviewed it, in April, Kathryn Hughes wrote:
Sometimes these magi agreed, sometimes they argued, more often than not they pointedly ignored one another. As a result, the overlaps between these 16 foundational texts are often messy and contested. Stonard's promise that this book will provide a "road map" of art in the 20th century may be misleading. What it does, in fact, is conduct an expertly guided tour along a rather marvellous scenic route.
Meanwhile, here's what Jackie Wullschlager, in the Financial Times, said, and Daisy Dunn, in The Telegraph wrote:
The Books That Shaped Art History is a thought-provoking reflection on a century of brilliant Art Historical scholarship. To the Art Historian it offers still more. Praising the masters while accepting and assessing their errors, this volume sets the bar for the next generation. It heralds a bold approach.
So there you go — a legitimate cheat sheet for summer reading.