The art market may be buoyant in the West this spring, especially at the auction houses (we'll see more this week and next), but it's still winter in Beijing's art galleries.
Beijing is the center of China's art market — of the 1,560 galleries in the country, 742 are in Beijing — according to a recent article in China Daily. The English-language newspaper, supported by the Chinese government, said that "fewer than 7 percent of the national total were able to make ends meet in 2012," and attributed the comment to Cheng Xindong, director of the Art Gallery Association and founder of Xin Dong Cheng Gallery. Cheng, the article said, estimated that average sales for galleries in Beijing in 2012 declined 20 percent versus 2011 sales.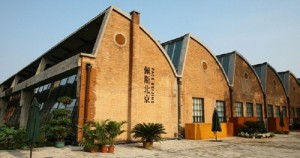 Not that many closed,  however — they're hoping for an upturn and hanging in there because, according to Meg Maggio, the founder and director of the Pekin Fine Arts gallery, the artists are there. Pace (right) in China feels the same way:
Pace Beijing, the China branch of the New York gallery, said it is still hopeful about Beijing as ittries to fulfill its original intention of "connecting to the local artists".

"They are still the most creative breed in Chinese contemporary art circles. As long as they arehere, there will be art," said Li Jia, director of Pace Beijing.
The article suggested that the biggest problem for the market is uncertainty about who's up, who's appreciated, and who's not. But there are technical issues as well, such as a crackdown on tax evasion by art buyers, and structural issues:
"Working in China has become more difficult in recent years due to high import taxes and bureaucracy over the import and export of contemporary art," said Urs Meile, founder and director of Galerie Urs Meile, a Swiss gallery with a branch in Beijing. "If Beijing is to have a chance to play a leading role among the competing art centers in Asia in the future, it is vitally important that those problems are solved and that the structures are improved."
Given the past troubles Chinese artists have had with authorities — in 2010, you'll remember, some Chinese artists were beaten by authorities and evicted from their studios — this update seems a bit encouraging. Though there's no way to tell how truthful it is, perhaps artists there are persevering, come what may.