Two Chinese bronzes, a rat head and a rabbit head, allegedly looted from Beijing's Summer Palace in the 19th century, owned for a while by Yves Saint Laurent, "purchased" at the auction of his art in 2009 for $37.7 million by a Chinese national who then refused to pay, are headed home.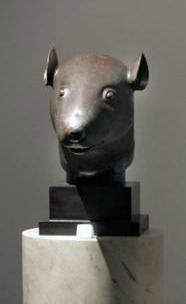 And it's all about business. Late last week, French billionaire François-Henri Pinault — son of Francois Pinault, the art-collecting titan who apparently bought them a while back — has now said that his family will give them back to China, "their rightful home." They were sold by Christie's, which Pinault's firm Artemis owns. He also controls PPR, which is changing its name to Kering. PPR sells luxury goods with brand names like Gucci and Bottega Veneta and does close to 10% of its business in mainland China. Besides, as The Wall Street Journal reported:
The move also follows the Chinese government's decision to grant a license to Christie's, making it the first international fine art auction house to operate independently in mainland China, based in Shanghai. Previously, Christie's was restricted to a licensing deal with a local Chinese auction house. Christie's said it expects to hold its first sale this autumn.
Quid pro quo? We don't know. But Sotheby's has to sell art in China with a local partner.
French president Francois Hollande is in China with a group of business executives, including Pinault, trying to get more business for French companies from China. Pinault made his announcement at a state dinner in Beijing Thursday night.
The New York Times also covered the move by Pinault, adding reaction from the Chinese government: "The Chinese side offers its high praise for this action and considers that it conforms with the spirit of relevant international cultural heritage protection treaties." It also supplied trade and diplomacy information:
France has a significant trade deficit with China and wants more Chinese investment. But the French president is under some pressure to raise human rights issues with the new Communist Party leadership. Mr. Hollande doled out his criticisms more freely when he was simply the leader of the Socialist Party.

Mr. Hollande wants to reassure the Chinese that his government will protect the security of Chinese tourists in France and intends to discuss making it easier for Chinese to obtain visas.
The heads are to go home to China by year-end. And what happened to the other heads in the zodiac that these two are part of? According to GB Times, a company based in Finland that covers Chinese news for the rest of the world:
By the end of 2012, the heads of ox, tiger, monkey, pig and horse had been brought back to China and are being kept by The China Poly Group. The dragon head is reportedly in Taiwan, while the heads of snake, sheep, rooster, and dog still remain missing.
To refresh your memory, yes, these are the animal heads — two from a zodiac — that Ai Weiwei made new sculptures of (all 12) and which have been on display in various venues for the last few years.
Photo Credit: Courtesy of GB Times