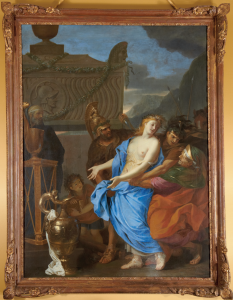 It now belongs to the Metropolitan Museum.*
In January, I posted here about The Sacrifice of Polyxena by Charles Le Brun, which had been found in the Coco Chanel Suite at the Hôtel Ritz in Paris by the London-based fine art consultant Joseph Friedman. It was put up for sale on Monday, and the Met bought it, Christie's said today.
Here's the link to my original post, with the circumstances of its finding. It was estimated to sell for €300,000-500,000 — or $393,430 – $655,717 — and in the event, fetched $1,885,194, including the premiu. That's a new world record price for the artist.
My January post has a before and after cleaning picture. At left is what it looks like now.
Photo Credit: Courtesy of Christie's
*I consult to a foundation that supports the Met.