Last week, I posted here about museums that give space and exposure to regional and local artists, past and present. The Birmingham Museum of Art is, apparently, among them, although I did not know it at the time. Here, in part, is what the marketing director, Cate McCusker Boehm, wrote to me afterwards — a sweet story that energized the museum staff: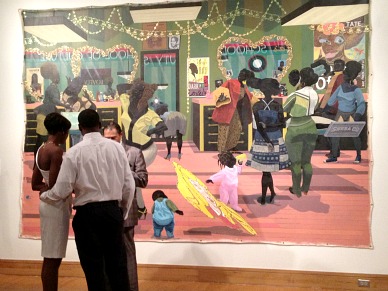 Our recent installation of Alabama artists in our contemporary gallery was in fact a response to requests from our visitors. While we boast the world's largest museum collection of Wedgwood ceramics, an acclaimed collection of Asian art, and a burgeoning group of African ceramics, we found that our community was eager to see a display that they could really be proud of– a home-grown gallery of artists who are helping to tell the story and culture of Alabama.

…we waited with fingers crossed to see how our visitors would respond to the gallery of only Alabama artists. And then, just two weeks ago, we received the ultimate gift of validation. In the middle of the day, in the hustle and bustle of spring break activities at the Museum, a couple stood before our newest acquisition School of Beauty, School of Culture by Kerry James Marshall, and were quietly married by an officiant with a single witness looking on. Curious, we approached the couple after the brief ceremony and asked them why they chose to marry here at the Museum in front of this particular painting. They explained that they'd seen the panting on a recent date. She is a hairstylist, he is a barber, and so the work was deeply meaningful to them, as it simply represents their life.

The couple's story quickly made it around to the Museum's staff members and soon we were all talking about the "pop-up wedding" in the contemporary gallery. It felt wonderful to know that one local couple had been so moved by a new piece in our Museum that they'd decided to exchange vows right in front of it. …
Well, that is the power of art.
Photo Credit: Courtesy of the Birmingham Museum of Art