It was months ago when I first learned that the Metropolitan Museum of Art* was organizing an exhibition from its permanent collection to send to China. It came to pass in February, when Earth, Sea and Sky: Nature in Western Art — Masterpieces from the Metropolitan Museum of Art opened in Beijing, at the National Museum of China.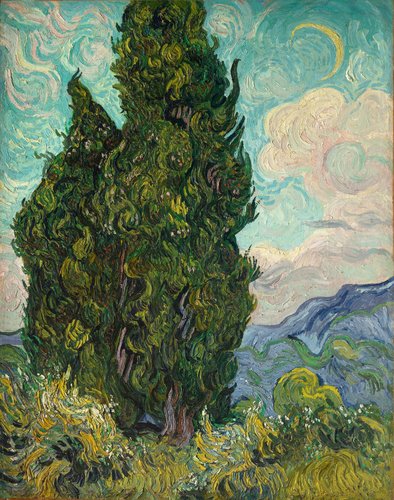 Billed as exploring "the grand theme of nature as it has been depicted by painters, sculptors, and decorative artists in Europe, America, and the Near East, from antiquity to the present day," the show was something I wanted to see. But the Met organized it with foreign audiences in mind, and has no plans to put these 130 works on view — in this form. Of course, they've probably all been on view at various times in their respective departments and probably temporary exhibits, too. Still, I wanted to see the sweep, just as Chinese visitors and before that Japanese visitors are seeing the show. The works sent by the Met
are masterful representations of landscape, flora, and fauna rendered in a wide range of media including painting, ceramics, tapestry, silver, stone, and bronze. Highlights include works by such major artists as Rembrandt, Van Gogh, Monet, Tiffany, Hopper, and Atget, as well as anonymous masters from the ancient and medieval worlds.
They include the van Gogh Cypresses and the Tiffany vase shown here.
So the other evening, at the ADAA Art Show at the Park Avenue Armory, when I ran into a Met official and heard a little about installation differences between New York and China (nothing serious, but one difficulty was resolved by placing plinths under big paintings), I asked the normal question for these days:
Can I see any pictures up on the Met's website?
I was disappointed to hear "no." Then I was pleasantly pleased to hear that  my co-conversationalist thought my idea was a good one and said, "we should do that."
S/he promised to get pictures from Beijing and get them up there so everyone can see part of this landmark installation.
This was the Met's first large cultural exchange with China, but there will surely be more. And director Tom Campbell, I understand, will soon be leaving for India, to poke around there at museums and to see what cultural exchanges might be arranged there.
All this is a good thing; I just want to see some of it too — even if only in a manifestation on the web.
So: sometimes the simplest things make great website material. Don't overlook them.
The New York Times covered the exchange on Jan. 31.
Photo Credit: Courtesy of the Metropolitan Museum 
*I consult to a foundation that support the Met