If you are interested in collecting, and how various collections come together, you might pick up a copy of the April issue of Traditional Home magazine. In it, under the headline Seats Of Learning, I chronicle how a woman named Diane Jacobsen, already a collector of American art, became an avid acquisitor of chairs.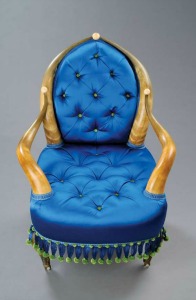 It all began about six years ago, when she bought a couple, almost on a whim, then more, then noticed how they engaged people. She researched and learned, and now owns about 50; 43 of them are touring museums around the country in an exhibition called The Art of Seating: 200 Years of American Design. It is now on view now at the Telfair Museums in Savannah, Georgia, and it's booked at other museums through mid-2015. You can see the Texas Longhorn chair, c. 1855, at left, and Ionic Column, from 2010, at right — two in the show.
While my article details Jacobsen's collecting, it's really, as I wrote, about:
…the sharp-eyed, idiosyncratic collectors who see value in amassing a group of things that others might overlook. Leonard Lauder, the cosmetics king who owns what many consider to be the best group of Cubist paintings in private hands, is also a lifelong collector of postcards. He started buying them at about age 6, credits them with turning him into an art collector, and has purchased more than 150,000 over the years – most of which are promised to the Museum of Fine Arts in Boston. "I am an incurable collector," he says, adding "The thrill for me is the hunt."
I mention other collectors in that category in the article, including Eugene V. Thaw,
…whose collections of Native American art and Old Master drawings have graced the galleries of several museums, [and who] also saw art in staircase models. Created by cabinetmakers in England and France in the 18th and 19th centuries to demonstrate their skills, these wooden marvels were shown at and donated to the Cooper-Hewitt National Design Museum a few years ago. Thaw has collected in other niche areas, too, like bronzes from the Russian and Chinese steppes just before the Christian era. "I'm not interested in following the crowd," he says. "I'm interested in the object and learning about them, and I learn by owning and looking and studying them."
What he describes are the real collectors, not the contemporary art chasers of today, who are after only names, trophies to hang on their walls to gain social credence. You can be a contemporary art collector and a real collector, of course — it's all about movitation and method.