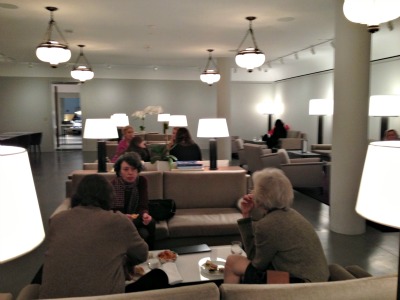 Several days ago, I met a curator of the Metropolitan Museum* for lunch, and she suggested that we meet in the new balcony lounge. I'd never heard of the new balcony lounge, but I eagerly said yes. While the Met has several places to eat, the two most convenient ones — in the Petrie Court and in the American wing — are often crowded, and the noisy ambiance of the basement cafeteria doesn't usually appeal to me. The Members dining room is very nice, but formal and besides you have to take an elevator to get to it (I am impatient).
The new balcony lounge turns out to be a place restricted to members at the sustaining level and above — that is, donors who contribute more than $550 a year.
So the point is not that the Met has a new restaurant. It's that the Met has a dozen categories of membership and, like other other museums, it is trying to figure out how to differentiate among them and in process encourage those who can pay more to do so. Sustaining members there are invited to view exhibitions in the evening followed by receptions, and they are entitled to reciprocal membership with 15 other museums.
Now they have a place of their own, with light snacks, beverages and reading material. The breakfast, lunch and evening menus are posted online, btw.
The pictures here show what it looks like (btw, it's in a space that used to be the store, so no galleries were sacrificed). Given the membership fee, it's supposed to feel sophisticated, and I guess it does. The food I tried was just fair, but I may have picked the wrong thing. The seats are comfortable, and I can envision stopping in between exhibitions to rest.
After eating, I chatted a little with the two women who were manning the desk, and they said people have been popping in to ask about it, with a few increasing their membership category on the spot.
I don't know if it's worth that — the lower category, Friend, costs $275 and membership for those withing a 200-mile radius starts at $70. But I do think it's a worthy goal to entice members to give more. Food has always been a way to people's hearts and wallets.
Photo Credits:  © Judith H. Dobrzynski
* I consult to a foundation that supports the Met