Back in December, I wrote here that the bid by the Dallas Museum of Art to buy the recently discovered Leonardo, Salvator Mundi, had failed — not enough money to satisfy the owners, who reportedly wanted $200 million but had agreed to settle for somewhat less to see it go to Dallas. Alas, the gap was too big.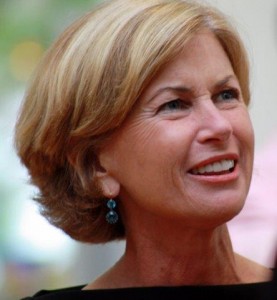 Today the museum announced that good things can come from failure: one of the donors to the fundraising drive, trustee and past chairman Marguerite Steed Hoffman (left), has decided to establish of a $17 million endowment for European art created before 1700: $13.6 million will be a restricted acquisitions endowment and $3.4  million will go to an operating endowment in support of pre-1700 European acquisitions, exhibitions, and programs. As the press release said, "this new fund more than doubles the DMA's acquisition endowment and brings total funds in support of the Museum's acquisitions to 50,000,000."
The museum talks about its strength in late 19th- and early 20th-century European works, "with the most significant collection of French impressionism and post-impressionism in the region." (That's not that hard… given Dallas's location in north Texas.) "But its collection of old master paintings is comparatively modest," the release says.
What's very nice is that Hoffman and her late husband are collectors of contemporary art:
Even prior to this gift, Marguerite and Robert Hoffman were already among the greatest benefactors in the Museum's history. In February 2005, the Dallas Museum of Art announced the unprecedented gift of modern and contemporary collections from Marguerite and Robert Hoffman, Cindy and Howard Rachofsky, and Deedie and Rusty Rose. The idea behind the joint gift came from the Hoffmans, who at the time co-chaired the Centennial Campaign, which was launched in 2003–04 to ensure the Dallas Museum of Art's continuing stability and growth. To jump-start the campaign, the Hoffmans issued a bold challenge: If the Museum reached its goal for the first phase of the campaign, they would bequeath to the Dallas Museum of Art their art collection and an endowment to care for the collection as well as make a generous gift to the campaign. Their action provided the foundation for a successful campaign that ultimately raised over $185 million.
More details here.
What's also nice is that prices for Renaissance and Baroque art are sometimes low enough for the museum to make significant purchases if it shops wisely and accumulates funds from year to year. I hope Dallas does not ignore Old Master sculpture.