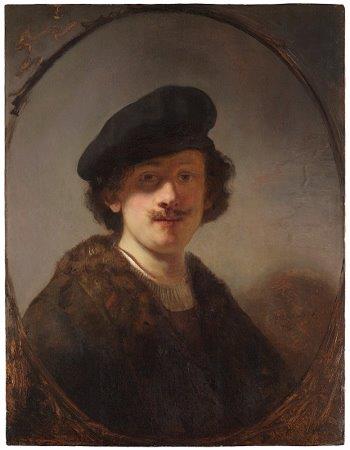 On loan, that is — but still.
Brooklyn announced the other day that two paintings by Rembrandt, Self-Portrait with Shaded Eyes (1634) and Portrait of Anthonie Coopal (1635), will go on view along with four other seventeenth-century Dutch portraits and genre scenes beginning Mar. 18 in the museum's Beaux-Arts Court. The six paintings are all on long-term loan from a private New York collection.
That collector, anonymous in the press release, is Thomas Kaplan.
But first, more about the Rembrandts: Both were done when Rembrandt was in his late 20s, and had been suffered through the decades. Self-Portrait with Shaded Eyes had actually been hidden by another portrait.
According to Dr. Ernst van de Wetering, chairman of the Rembrandt Research Project (RRP), "the overpaintings were so old one had to entertain the possibility that they had been done in Rembrandt's own workshop." The RRP brought in experts to conduct tests on the portrait's paint surface and assess whether there might be another composition underneath. Six years and several paint layers later, this long-unknown masterpiece was revealed in 2002.

Portrait of Anthonie Coopal was commissioned by Rembrandt's new brother-in-law. The artist captured the personality of the ambitious Coopal in the prime of his youth. (A future magistrate and secret agent, Coopal would become one of the most well-connected men in Rembrandt's Amsterdam circle.) Rembrandt painted his sitter in mid-speech, sporting a broad-brimmed black hat atop long brown locks that cascade onto a fashionable white lace collar.
The Brooklyn owns etchings by Rembrandt, but no paintings. They were shown in full in Rembrandt Etchings from the Museum Collection in 1935. Too long ago.
The museum did not say how long Kaplan has agreed to leave his Rembrandt's in Brooklyn. When I last did some reporting on Kaplan, a commodities trader, he owned at least six or seven Rembrandts (one source said more), along with many more paintings from that era. He has lent some to the Metropolitan Museum in the past, but I do not know what it there now.
My sources said that Kaplan is passionate about his area of Dutch art and very knowledgeable.
Photo Credit: Courtesy of the Brooklyn Museum