Alas, I am not going to Maastricht this year for TEFAF, the best art fair in the world, in my opinion. Last year was the 25th edition, and it was spectacular. If you have time to read this, instead of looking at the art on view, you're probably not there either.
But though Maastricht is known for its Old Masters, it has more to offer — lots of 20th century work, for sure, and some from the 21st century. Presumably, this breadth is why those entering the fair, which begins tomorrow to invited guests and on Friday to the public, will see this piece of contemporary art at the entrance.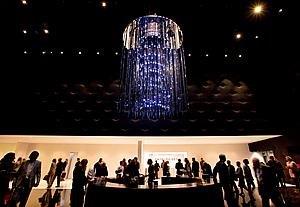 Entitled Mary Poppins, and pictured at left, it's the largest contemporary art work for sale at TEFAF. Made by Portuguese artist Joana Vasconcelos, "Mary Poppins' six protective elongated arms of 7 meters (7,65 yards) calls to mind the magical nanny popularized by P.L Travers' children's novels. Mary Poppins is made from pre-existing materials and mass-produced objects along with other hand-made crochet and knitted fabrics, collected by Joana on her travels with textiles originating from the UK." It's supposed to appear weightless, floating in space.
Just for fun, I've also got a picture of last year's contemporary "welcoming" installation — a light piece by the artist Leo Villareal, at right.