So what are you doing tonight at 8 p.m., EST? Want to hang out, talking about art with someone from the Museum of Modern Art?
Google hopes so. Someone there obviously see value in adding features about art, because the Google Hangout venture of the Google Art Project, scheduled to debut this evening, is the start of a series called "Art Talks." (That's the official announcement.)  These regularly scheduled online talks are designed to explore masterpieces, according to an account on Mashable, though the first tranche seems a bit broader than that.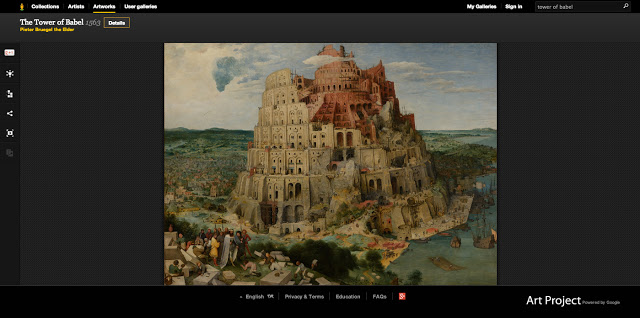 Tonight, see MoMA's Director of Digital Learning, Deborah Howes, who along with artists and students plan to talk about teaching art online. Post your questions for them here and here's the link to gain access.
According to the Motley Fool,
Each month on Google Art Project's Google+ page, partner curators, museum directors, historians, and educators will reveal the hidden stories behind famous art works and artists. The guided visits begin this week on Wednesday, March
Next up, after MoMA, is the National Gallery in London 0n Mar. 20. From there, Caroline Campbell, curator of paintings, and Arnika Schmidt, a curatorial assistant, will discuss depictions of the female nude in its collection. Following that, Art Talks move to Washington, where in April curator Peter Parshall, curator of Old Master prints, will lead a discussion of Bruegel's "Tower of Babel."
Various reports say that these hangouts will also involve the Metropolitan Museum of Art, the Museum of Contemporary Art in Los Angelese, the Museo Nacional de Arte of Mexico City, and Qatar's Museum of Islamic Art.
Later, Google will post the discussions on the GAP's YouTube channel.
Go to this page for more information.