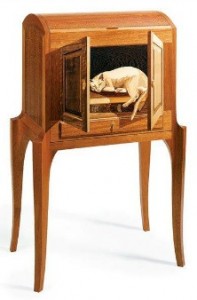 We tend to think about marquetry as a Renaissance or Baroque art, but it's not. Many contemporary artists and artisan practice the craft/art. I recently wrote about one, Silas Kopf, for Traditional Home magazine. Here's a key paragraph:
If you think marquetry is a dead art, a relic of the Renaissance, you haven't met Kopf. For more than 25 years, he has been turning out hand-cut marquetry marvels, some laced with humor, others as elegant as a classical commode, still others trompe l'oeil tableaus so realistic you do a double take. "I don't think anyone else in marquetry has his accuracy or range of colors," says Wendell Castle, the 80-year-old wood-master who is known as the father of the art furniture movement.
Amusingly, Kopf is a Princeton alum whose parents, he said, were originally "mortified" by his choice of career. They came around, though, as did the market. His Steinway piano with morning glories sold for more than $200,000.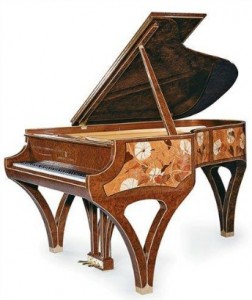 Kopf's work is shown at Gallery Henoch in New York. Last fall, George Henoch Shechtman told me that "We've represented him for more than 20 years – even longer. We had furniture show when the gallery was in Soho, and that's when we found him. I think it was about 1985. We're a realist gallery: it was his pictorial images and sense of humor that appealed to me, but most of all it was that he is a master of his craft. He is a master of marquetry. No one does it on such as large scale as he does."
Schectman, who own three Kopf pieces, told me that he loves that the pieces are "totally functional."
I like another thing about Kopf: he's been sharing his tricks of the trade. Aside from teaching and publishing a book about marquetry — "A Marquetry Odyssey" — he has posted tutorials on YouTube (they start here).