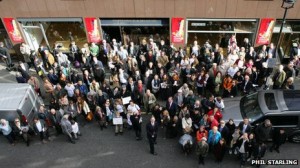 For some time now, London art dealers have been trying to save their Cork Street galleries from developers. It all started last summer, when a parcel of land was sold to a developer who wants to construct luxury apartments there. Then, another landowner decided to follow suit. Many galleries would be forced to move. I learned about it when someone started a petition to the Westminster Council on Change.org. As I write this, about 13,250 people have signed it, and there's a website called Save Cork Street, and protesters held a rally last fall.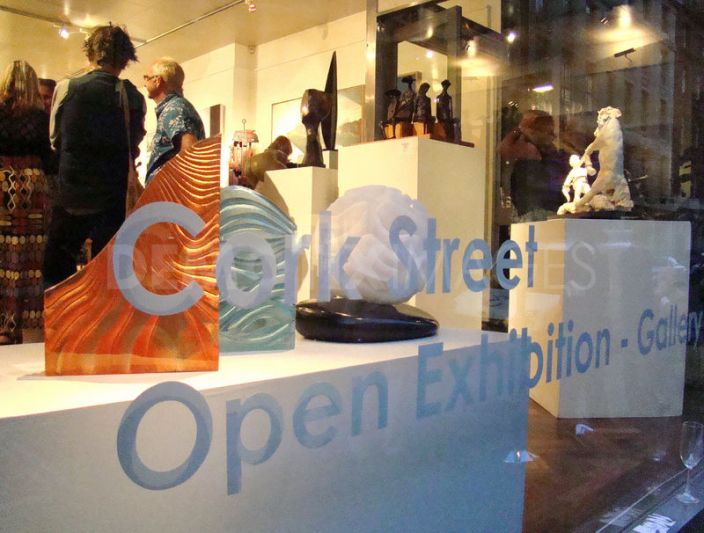 If you go to the website, you'll get the basics, some of which I excerpt here:
For almost 90 years, Cork Street in Mayfair has been one of the most famous streets for art galleries in London…The history and atmosphere of Cork Street, as well as its close proximity to the Royal Academy of Arts, make this a unique place to visit for collectors, art enthusiasts, students and tourists alike.

The careers of many prominent British artists – Barbara Hepworth, Lucian Freud, Francis Bacon, and Lynn Chadwick, to name a few – have been closely related to Cork Street.
…20 independent art dealers operate out of Cork Street and the recent proposed property developments, by The Pollen Estate and Native Land, threaten to force out over half of these historic local art businesses.

In August 2012 seven galleries on Cork Street (Adam Gallery, Alpha Gallery, Beaux Arts, Mayor Gallery, Stoppenbach & Delestre, Waterhouse & Dodd and Gallery 27), were given notice to leave their premises in June 2013.  Their landlord, the British insurance firm Standard Life Investments, has finalised a £90m deal with property developer Native Land.  This could result in the demolition of 22 to 27 Cork Street – part of a 7,700sq m (83,000sq ft) redevelopment of a site that stretches right through to Old Burlington Street.

The Pollen Estate has submitted an application to redevelop numbers 5-9, on the opposite side of Cork Street, home to another four of Cork Street's long standing art galleries, which if approved would start in 2015.
What prompted me to write this now is an article in the Style section of Time about the situation — it adds some comments from the dealers — a bit inflammatory, imho — and concludes that culture will probably lose out to commerce at least "for the short term."
Maybe. But once as many as the ten or so galleries involved move, there may not be a critical mass in Cork Street. On the other hand, there are other gallery district in London, and I'd guess that few galleries that left Soho for Chelsea years ago are looking back in anger.
Still, I don't want to see ugly modern buildings in Mayfair — and that's what we're likely to get. You might want to sign that petition.
Photo Credit: Courtesy of Save Cork Street