For a founder of the Italian Renaissance, it's amazing that the exhibition opening tomorrow at the Frick Collection is "the first monographic exhibition in the United States on the artist."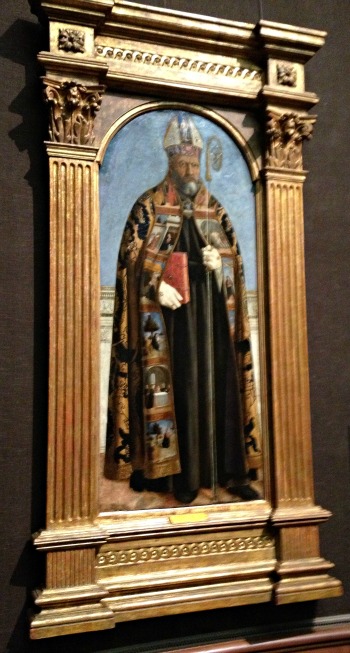 The artist is Piero della Francesca, born circa 1411 and dead the year Columbus set sail for America. Even more amazing perhaps is that the exhibit fits comfortably in the Frick's small oval gallery — it's just 7 works, and if memory serves four are from the Frick itself. Yet it's an occasion, worth a visit by any serious art lover.  
Along one wall are four panels from the Sant'Agostino altarpiece; on the opposite wall is the Frick's St. John the Evangelist and — surprise — a panel of St. Augustine borrowed from Lisbon's Museu Nacional de Arte Antiga that has never been seen in the U.S. before.
It's stunning. I'm posting a photo I took with my iPhone, but it doesn't do the work justice. His staff, for example, is made of clear crystal, to perfect effect.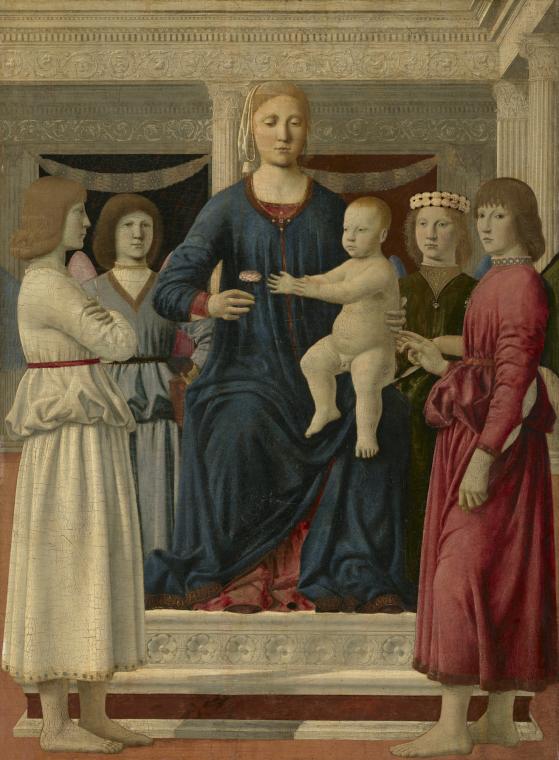 The Clark Art Institute then graciously lent its Virgin and Child Enthroned with Four Angels, Piero's only intact altarpiece in this country. It's a good thing that the Frick's semi-circular marble step beneath the work keeps people from getting too close — for they surely would. I've posted it here, too, at right — a much better image taken from the Frick itself.
I was at the opening reception for this exhibition tonight, and it was thrilling to see it. More details here, in the press release.  
As I'd remarked to a few others there, several years ago I was at a conference at the Clark when the late Anne D'Harnoncourt started talking about the altarpiece nearby. She referred to the artist as "Piero" and then stopped herself, in mid-sentence, and said she hoped we could call him just "Piero" now — he was THE Piero. Everyone agreed, and for the rest of the meeting that's what everyone said.
My hope for this exhibition is that it makes the public know who is meant when they hear the name Piero, the artist.
Photo credits: Courtesy of the Frick (bottom)