I like to look at books like An Intellectual's Visual Miscellany, by Daniel P. Murphy, Ph.D., which is subtitled An Illustrated Guide to Masterworks of Art, History, Literature and Science, because they are often accidental entry into the arts (or, in this case, those other disciplines). People might pick them up, see something, learn about it, and discover a deep like for something they never knew they had. Or at least enough interest to go look at, in person,what they've seen in a book. Besides, they can be fun.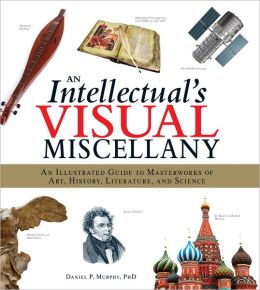 This one, by Murphy, the director of the Center for Free Inquiry at Hanover College, was published last November by Adams Media, but it was just sent to me for review last month.
My headline view: it's inconsistent, both in choices and in the information it provides, and unfortunately the visual arts don't seem to be Murphy's strength.
His book's chapters cover Painting and Sculpture, Architecture, Wonders, Music and Composers, Writing and the Book, History, Literature, Philosophy and Religion, Science and Mathematics, and Lifestyle. Each is split into subdivisions, like "The Heritage of Alexander" and "Medieval Painting" in visual arts, and "Musical Geniuses" and "Modern Music" in that category. In Modern Music, the reader gets "People of Note" (Claude Debussy, John Cage, Pierre Boulez, etc.), whereas in "Musical Geniuses," the reader gets a "List of Works" (Armida by Salieri, Fidelio by Beethoven). Idiosyncratic? A bit.
But let's just look at the visual arts. Some of the pictures are in black and white. And in, say, those Alexander pages, Murphy offers up the Venus de Milo, Winged Victory of Samothrace, and the Dying Gaul — good choices — but doesn't tell readers where to find them. Or when they were made.
Who, and what, is in "The Northern Renaissance and Beyond"? Holbein's Portrait of Henry VIII AND his Portrait of Catherine Parr. Why not The Ambassadors? Or the Darmstadt Madonna — for a little variety as well as because they are better works than Parr. For Durer, we get The Rhinoceros, not Melancholia or Knight, Death and the Devil, or (my favorite) his self-portrait, 1500.
And so it goes, to quote Vonnegut.
There's  nothing wrong with idiosyncratic choices — the author is entitled to his views, whether or not they are yours or mine.
But here the book itself doesn't live up to its promise. Aside from the black-and-white problem, many of the images are too small to provide a taste of what a work a work looks like (I know rights are expensive, but this is advertised as "illustrated.")  And why do we get a list of works, with their locales, for "Rococo in France," but not for "Ninteenth Century European Art"?
If the intent of this book was to send readers to their computers to look things up, it might be deemed a success. For me, that's a bit too frustratingly incomplete to keep reading, no matter the author's choices.