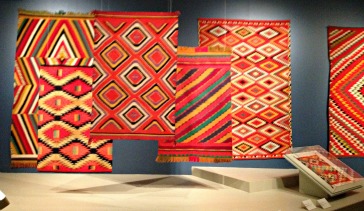 Last week's announcement by the Metropolitan Museum of Art* that it had organized and sent a collection of works from the permanent collection to the National Museum of China in Beijing —  Earth, Sea, and Sky: Nature in Western Art – Masterpieces from The Metropolitan Museum of Art — reminded me that I had one more item in my notebooks from my recent trip to Denver.
There, I was eager to see the installation of Native American Art at the Denver Art Museum. I wrote about it from afar two years ago for The New York Times, in an Arts & Leisure section cover story that was headlined Honoring Art, Honoring Artists — which was too bad, actually, because the headline didn't convey what the article was about.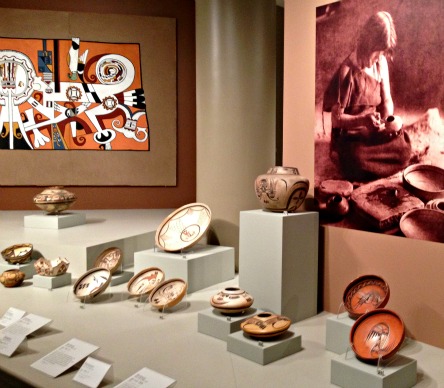 It was about the attempts there, as curator Nancy Blomberg created a new suite of galleries for Native American art there to place emphasis on the artists who created the works — even when we don't know there names. She tried, wherever possible, to seek out attributions to individuals and, where not, to emphasize still the individual by saying "Navaho artist," say, on the labels, rather than just "Navaho."  (I also posted about it here and here.)
One example is in the photograph at right: It's the vitrine dedicated to the pottery created by Nampeyo, a Hopi woman born around 1860.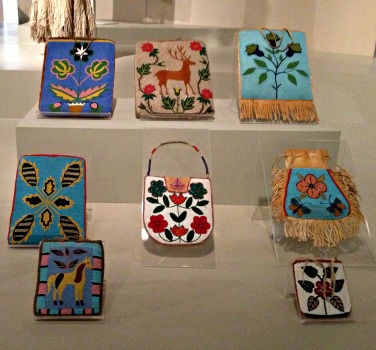 I met Nancy, and she showed me around briefly then left me on my own to wander. The galleries looked beautiful, as the pictures here will attest. (I snapped many with my cell phone. Most were taken before and just as the museum was opening — that's why they are devoid of people.)
The greatness of Denver's collection was evident. Now consider that, in 2011, Blomberg said she was going to display about 700 objects from the museum's collection of about 18.000 objects. Looking around, I blurted out to Blomberg, "you have so much great stuff — you have to get some of your collection out on tour!"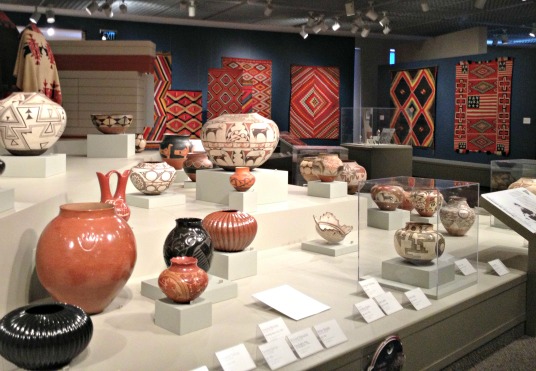 Blomberg hasn't had the chance to do that, she said, but the museum's director, Christoph Heinrich, has encouraged her (and other curators there) to do so, she said.
It's true that museums are sending parts of their permanent collections out on tour, especially during renovations, to increase earned income. But that wasn't behind my enthusiasm. I simply think that many more people who do not get to Denver, let alone to the Denver Art Museum, would like to see this collection. If what's in storage includes items of similar quality — not all, but enough — there may well be a themed exhibition that could be shared.
I think that same thought when I visit other museums. Some have an embarrassment of riches that might be lent temporarily to others.
Of course, I know that many museums already do that. This is just a gentle reminder to those who don't but could.
Photo Credits:  © Judith H. Dobrzynski