With the blockbuster movie "Lincoln" in cinemas around the country, his secretary of state William Seward has returned to the country's collective consciousness. Aside from aiding Lincoln, he engineered the purchase of Alaska, you'll remember from grade school.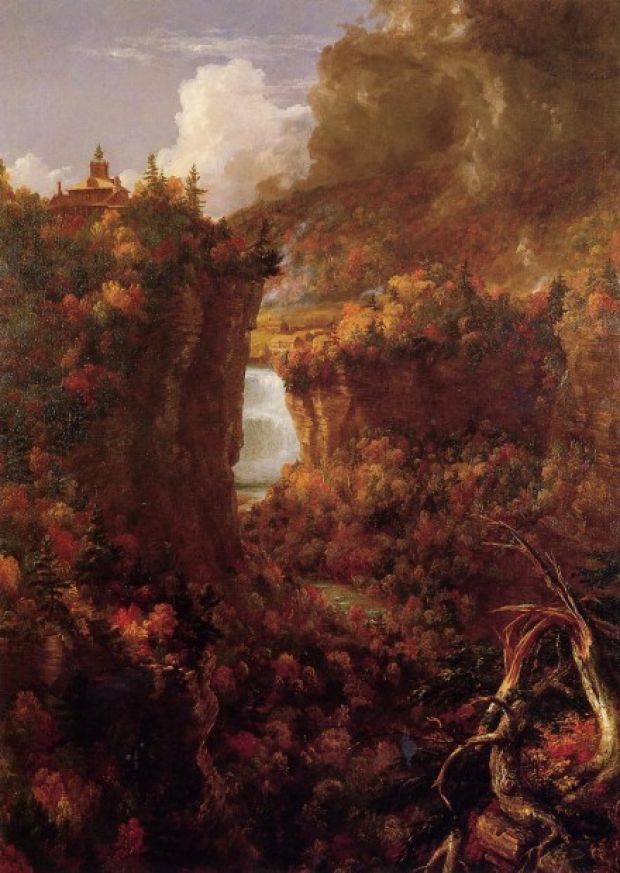 Seward's residence in Auburn, N.Y. — a house museum — has been the home to Portage Falls on The Genesee by Thomas Cole – until last Thursday.  That's when trustees of the Fred L. Emerson Foundation, which owns the painting — which was a gift to Seward — decided to remove it to a safe place so they could sell it. Why?
In a letter to museum members, which was printed last week in the Auburn Citizen, foundation president Anthony Franceschelli wrote that the board had only recently become aware of its value and therefore the need for greater security at the house. So they are selling the painting to increase security — or so they say. From the Citizen:
The letter explains that the home was left to the Emerson Foundation in the early 1950s by William H. Seward III, the former secretary of state's grandson. In 2008, the foundation transferred the home, property and contents to the Seward House Museum to comply with new state regulations related to museums. But one item retained by the foundation was the Cole painting.

…Because of the Seward House painting's potential worth and the need for greater security, the foundation and museum decided to remove it from the museum and agreed to sell it through a public auction or a private sale.

Officials said they will attempt to sell it to another museum…but it could also be sold to a private dealer depending upon the offers. There is no set timetable for when a sale may occur.

Proceeds from the sale of the painting will be split between the Emerson Foundation and Seward House Museum, according to Franceschelli and Seward House Museum President Dan Fisher.
Sound fishy? Does to me. The article found a comparable painting that sold for  more than $1 million.
According to its most recent 990, the Emerson Foundation has assets of about $75 million. As part-time president, Franceschelli receives about $25,000 a year — and there's an executive director who receives nearly $200,000 a year. Other directors of this non-profit are also paid. Its grants, about $3.5 million a year, go to many local causes — and that's good.
But it seems to me that the board had such an inkling of the value in 2008 — if they had transferred ownership to the museum, they could not deaccession it without raising eyebrows. So they thought they'd get around it this way.
As one of the Auburn Citizen commenters wrote:
When it comes to appreciating and preserving our local history, and in this case, the history of our country, we as a community have just taken a major step backwards. The Cole painting belongs at Seward House. Period.
Photo Credit: Courtesy of the Auburn Citizen