Although I've twice interviewed Dean Sobel, the director of the 14-month-old Clyfford Stil Museum, I saw him in Maryland, at the storage facility where Still's paintings were kept before the museum opened. My article about his goals for the museum ran in the Wall Street Journal in October, 2011, before the museum opened.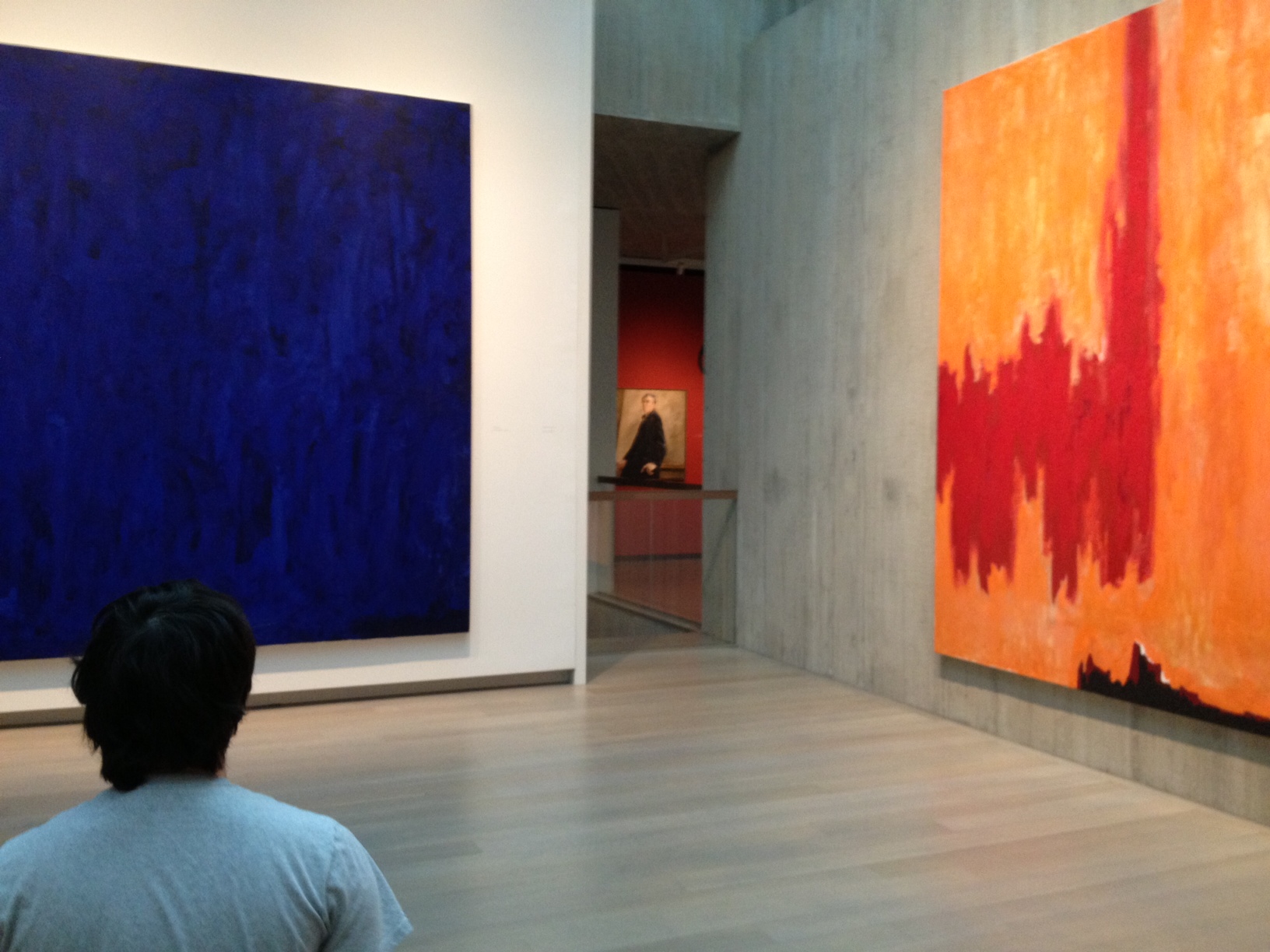 It wasn't until last Friday, when I was in Denver, that was able to see the museum and the works (some of which I saw in storage) fully stretched and hung properly in a building designed by Brad Cloepfil of Allied Works Architecture. The building deserves the raves it received, some of which I've quoted below (in agreement).
One attribute I particularly fancied: the sight lines between galleries. Take a look at a couple of my pictures. Above left, you can see Still's self-portrait between two of his loveliest paintings.
Below  right, there's an example of compare-and-contrast views. Finally, below left, you'll see how visitors may view a painting from the drawings gallery. (Still's drawings, btw, turned out to be far more interesting than I expected them to be.)
I also loved parts of the first floor of the museum, where Still's large canvases are stored (some in open view), where his paintings are conserved, and where his many drawings not on display are stored, accessible to scholars, along with his archives. Vitrines on this floor display some items drawn from those archives — as I described in my WSJ piece. (Here's a tidbit: Still wrote to Clement Greenberg as "Dear Greenberg." Was there an edge in that? Sobel didn't know, nor do I, but maybe a reader will.) His letter to Betty Parsons, in which he quits the art world, is there too.
There's also an excellent interactive feature with, among its offering, a sampling of what was going in art history and in the world as Still painted.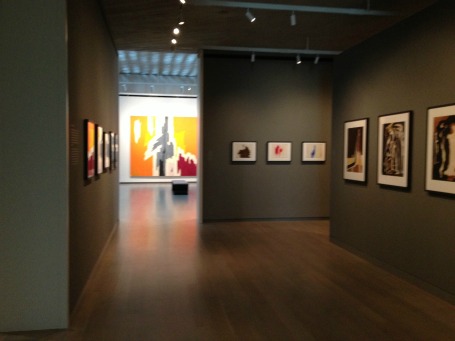 Now for those promised excerpts.
Here's Karen Wilkin in the WSJ: "The handsome, earthy building is superb, with glorious, changing, aqueous light diffused through a continuous concrete "web" in most of the second floor exhibition spaces….The galleries, varied in ways sympathetic to the collection and flexible enough for rotating selections, are all wonderfully proportioned; even the most splendid of them—a light-washed, symmetrical central space—remains intimate while accommodating five monumental canvases. Views through doorways, echoing traditional enfilade arrangements, permit comparisons. It's all logical, articulate, and makes Still look his absolute best."
Here's Christopher Knight in the Los Angeles Times: "…the new Clyfford Still Museum…is nothing less than a marvelous model for what a single-artist museum can be. Virtually every aspect of it is designed to maximize a visitor's encounter with Still's often riveting art….The cantilevered second floor rests lightly on a non-structural glass wall. Exterior poured-concrete striations — echoed in wood-slat panels — create ethereal shadow-play in the clear daylight of the Mile High City. A visually unobtrusive perforated-concrete screen, which filters overhead natural gallery illumination from skylights, is surprisingly buoyant….paintings lead you through nine lovely galleries… Separations between rooms allow views across and down into other spaces, facilitating awareness of where you are in the building. The art experience is the program, first and last.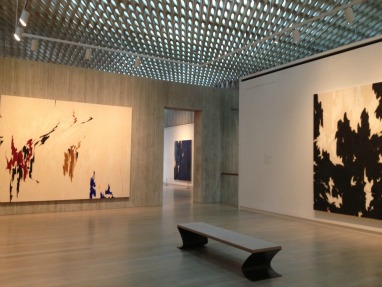 And here's James Russell on Bloomberg: "…The boxy bunker designed by architect Brad Cloepfil bristles with ragged concrete fins, evoking Still's intricate compositions. That roughened exterior radiates an elegant gravitas….Cloepfil, of the Portland, Oregon, firm Allied Works Architecture Inc., brings a Zen calm by framing the nine, squarish second-floor galleries in planes of concrete and painted drywall that alternately obscure and reveal, like Shoji screens. He mixes salon-style rooms with high galleries topped by a rippling scrim of concrete in which teardrop perforations delicately shower the space with shimmering daylight."
Single-artist museums aren't easy beasts to design, program and manage. This one has a great building and an excellent start.
Photo credits: © Judith H. Dobrzynski