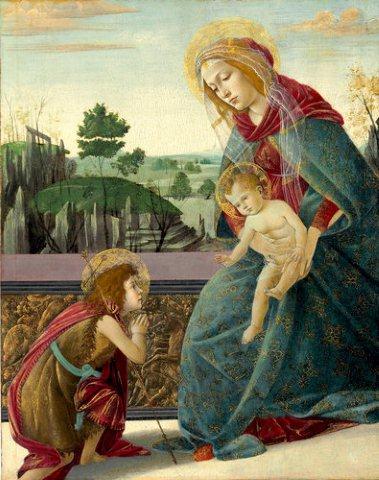 I just can't help myself. The juxtaposition of two auction sales is simply too tempting.
In tomorrow's New York Times, Steve Wynn announces that he's the one who bought Tulips, by Jeff Koons, last November for $33.6 million, a record for a piece by Koons at auction. He had to admit it at some point, because he put it on view in the Wynn Theater rotunda in Las Vegas  a few days ago, and eventually he'll move it to a hotel-casino he's building in Macao.
The paper also mentions another record — this one set this week — for a Botticelli. On Wednesday, Christie's sold that painting, of a Madonna and child once owned by John D. Rockefeller, Jr., for $10.4 million, his highest auction price. 
I'm pasting them both here. You decide.