American art seems more and more welcome and appreciated in Europe, and around the world, nowadays. It has been a long time coming for art made before Abstract Expressionism.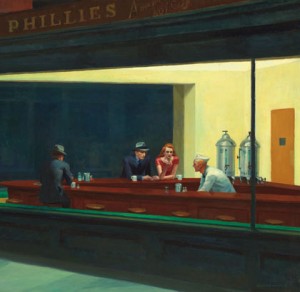 One more bit of evidence: the Edward Hopper exhibition at the Grand Palais in Paris, which has brought together 164 of his 128 paintings, watercolors, engravings and illustrations. According to Next-Liberation, "Edward Hopper is a hit. So much so that, to cope with demand, the Paris retrospective was extended for six days, until February 3, with three days of continuous opening last weekend." It's drawing about 6,800 visitors a day – some 580,000 as of the date of the article.
The Grand Palais is projecting a final count of 700,000. Had that daily rate been achieved in the last rankings of The Art Newspaper, the Hopper show would have placed as the 9th most popular show of 2011. By gross attendance, its rank would have been higher.
These numbers far exceed those attained for the Hopper exhibit at the Tate in London in 2004. The number of tickets sold for that exhibit was about 420,000. (In a side note, Sheena Wagstaff, who curated that show, is now the contemporary art curator at the Met.)
Meanwhile, the review posted on CultureKiosque by Patricia Boccadoro called it a "magnificent exhibition" and said:
What is certainly true is that Hopper reshaped painting in the United States, his works not only inspiring film directors fromHitchcockto Wim Wenders, but also being reproduced in posters, post cards, and book covers, thus contributing greatly to a certain image of America still present in Europe today.
On the other hand, his work depresses her. She ends the review:
… He seems to take no pleasure in life, painting being merely an intellectual exercise, full of silent, stoic people, with no trace of joy or laughter. There's sunlight, but no scent of sunshine, people, but none of the warmth of humanity.The admiration one feels upon leaving this exhibition is perhaps less for the genius of this artist whose works are scarcely uplifting, and more for the excellence and scope of the presentation, the first of its kind in France. Indeed, almost 130 of Hopper's works have been brought together by the Grand Palais and the Museo Thyssen-Bornemisza in Madrid in partnership with the Centre Pompidou in Paris, a remarkable achievement.
No matter. As long as people look…
Photo Credit: Courtesy of the Grand Palais