Did you know that Mohamed Atta, one of the 9/11 terrorists, tried to sell looted Afghani artifacts to buy an airplane?
That some 20,000 to 30,000 works of art are stolen each year in Italy alone?
That art theft ranks after only drugs and arms as the third highest grossing illegal trade?
Noah Charney, right, the art historian who founded the Association for Research into Crimes Against Art, knows all that and more. Recently a talk he gave at a TED conference, badly titled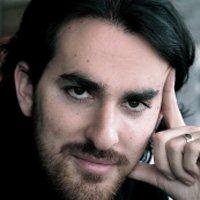 "How To Steal from the Louvre," was posted on the ARCA blogsite.
I say it was badly titled because art mavens like you probably know that the man who stole the Mona Lisa a century ago was ill-informed about the painting's provenance, and not your typical art thief. Is there a typical art thief? Charney says much art theft takes place because the perpetrator believes the fiction, film and media representations of the demand for stolen art — that there are a lot of Dr. No's out there ready to buy that Picasso. Not so, Charney says — there are only abut two dozen of them around the world "that we know of."
Rather, stolen art — even minimally valuable stolen art — finds its way into the barter/trade system of drugs and arms. That, he poses, is why it's even more critical to stop than if there were more Dr. No types.