Last summer, when I went briefly to Mexico City on vacation, I was totally bowled over by a collection of Latin American folk art I saw there. It was beautiful, it was different, it varied across regions and countries, it was sophisticated, and it was well-crafted.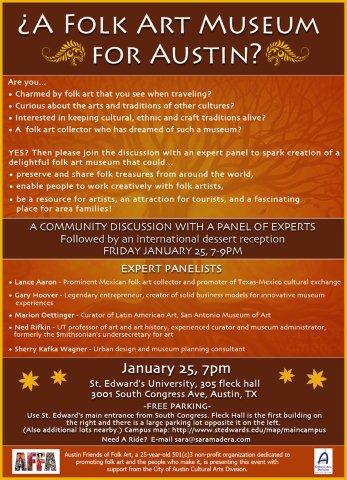 So I was delighted to learn of an unrelated, but possibly similar, development in Austin: This Friday, a group of folk art collectors there who banded together in the late '80s, will sponsor a public meeting to explore whether or not to start a folk art museum there. Austin Friends of Folk Art, a nonprofit, has brought experts to set the scene — two art people, two museum planning experts, and Ned Rifkin, whom you'll remember as both a museum director and curator, now a professor at the University of Texas. (See invite at right.)
Folk art is a tricky thing. It's not "hot" among collectors and some folk art museums — notably the one in New York — have had a hard time attracting sufficient audiences to meet their expectations. The Austin collectors seem to have a Latin bent. An article about the group's hopes in the Austin American-Statesman mentions folk art from Mexico, plus grants to Latino organizations.
But the Friends group seems well aware of the potential pitfalls. The Statesman quotes Merry Wheaton, the current president of AFFA, saying:
Clearly there are a lot of (folk art) collections in town that will need to be housed and taken care of. We're an all-volunteer organization, and we don't have an endowment or maybe even the people who could lead the fundraising for a new building. But maybe we don't need a building.
Instead, it might create displays at:
Hotel lobbies, the airport — any place people already gather. Art is already exhibited in such places.
And:
There are lots of possibilities. What we want is to put ideas out there, see what the community desires and see who else is out there and interested. If there's energy out there for something, we can move forward.
Sensible, and perhaps enlightened. We shall see after Friday.