I can't say for sure, but I think that John Patrick Shanley is setting some sort of record. Shanley, whom you probably know as the author of Doubt: A Parable, the Pulitzer and Tony award winning drama about learning to live with uncertainty, is about to introduce that story in a third medium — opera. He has already written his script into a screenplay, as well as directed that movie, Doubt, which starred Meryl Streep and Philip Seymour Hoffman.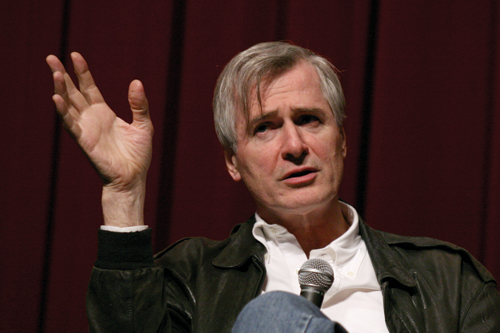 Now he has written the libretto for Doubt, the opera, which premieres next Saturday, Jan. 26, at the Minnesota Opera. (Douglas Cuomo is the composer.) Shanley may be the first writer to turn out one story, part of his own, in three different art forms.
I talked with him about this recently. He wrote the play, as he told me, in "four or five weeks — or my whole life." After that, "it was thrust upon me both times," he says.
A few other tidbits:
Shanley knew, and still knows, little about opera, but that didn't stop him from writing the libretto.
To do so, he didn't go back to what he had already written: "The benefit I bring – I go back to the neighborhood, not the film or the play  – this is my life."
Yes, each of the four characters in the play — Sister Aloysius, Father Flynn, Sister James and Mrs. Miller — has an aria.
"With opera, you breathe a sigh of relief. There are all these other people [the chorus/congregation, for example] and the orchestra. Now we have a world to support the story."
"In a play you write in a style. The characters share a world view. They agree what world they are living in, demonstrated by the language. In an opera, you share the music. Characters that may be in violent disagreement share the music."
"Opera has spectacle, which is what people want to see.
"The opera will have new material, and it lose some from the movie/play. "You could not simply musicalize the play."
"Film is a nightmare because there's no tradition in film – no 'I will put up with this film because it's good for me.' It's a popcorn medium, a popular medium – people have to be entertained. They have to be involved." 
"The latest medium is the best. It's still a living thing."
Droll, witty, and pretty much uncorked, Shanley is the subject of a Cultural Conversation that I wrote, which will appear in tomorrow's Wall Street Journal. I laughed a lot during the couple of hours I spent with him. Having seen Doubt in both other manifestations, I'd like to be at the opera. But I'll have to wait until another time, because I doubt I'll get to Minneapolis.
Meantime, after it opens, I invite RCA readers to tell us all what it's like by leaving a comment.
Photo Credit: Courtesy of Edgemar Center for the Arts