China's best-known artist has struck again: in another manifestation of Ai Weiwei's many talents , fertile mind and ability to annoy the Chinese government, he has issued a "little black book" — Weiwei-isms parrots the form of "Quotations from Chairman Mao Tse-Tung," which was short-handed as the "little red book."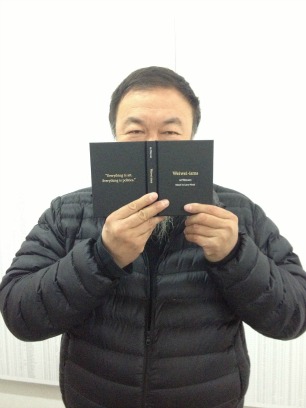 Ai's book, too, consists of short, sharp thoughts and sayings. Drawn from his tweets, interviews and articles, the maxims have been organized by the editor, Larry Warsh, into six sections: freedom of expression; art and activism; government, power and moral choices; the digital world; history, the historical moment, and the future; and personal reflections. Princeton University Press, no less, is the publisher.
Samples:
My favorite word? It's "act."
Liberty is about our rights to question everything.
Only with the Internet can a peasant I have never met hear my voice and I can learn what's on his mind. A fairy tale has come true.
My work has always been political, because the choice of being an artist is political in China.
The government computer has one button: delete.
I wouldn't say I've become more radical: I was born radical.
The Chinese [government] only superficially speaks the language of the international community.
Cover-ups and deception are the nature of this society. Without lies, it won't exist.
I came to art because I wanted to escape the other regulations of the society. The whole society is so political. But the irony is that my art becomes more and more political.
The publication date is today, Dec. 12, and the books costs $12.95. It's a very handsome little book.
Photo Credit: Courtesy of Princeton University Press