Dear Reader, I am taking the next few days off to celebrate Christmas. Back shortly thereafter. Meantime, here's a beautiful nativity scene — new to me and maybe to you. The Holy Family was painted by Francesco Zaganelli da Cotignola.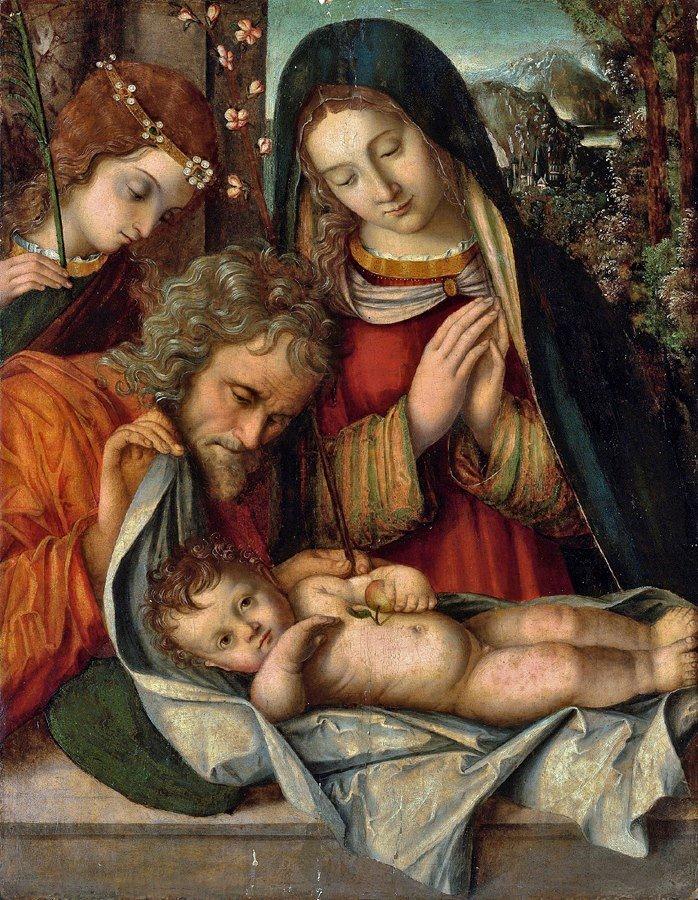 This painting was called to my attention by my colleague Paul Jeromack, who writes about Old Masters far more frequently than I do. He reports that it sold at Christies in Dec. 2011 — fetching $1,584,414, against a $156,200 – $234,300 presale estimate. London dealer Danny Katz bought it for his own collection. The lot notes said:
Francesco di Bosio Zaganelli was perhaps the most individual painter of his generation in the Romagna. Born at Cotignola, he may have been trained by Marco Palmezzano and in the first decade of the fifteenth century shared a bottega in his native town with his brother, Bernardino, whose only certain independent work is the signed Saint Bernardino of 1506 in the National Gallery, London.

By 1513 Francesco was based at Ravenna, but receiving commissions for towns in the area including Faenza, where he supplied the Baptism of 1514, now also in the National Gallery, for the Laderchi chapel at San Domenico. Zaganelli developed a highly individual style that assimilated influences from Ferrara, from the Bologna of Costa and Aspertini, and, less directly, from the Umbrians of the previous generation. As this Madonna demonstrates, he was an artist of considerable emotional range and equal expressive power: given the demand for pictures of the subject it is notable how varied Zaganelli's interpretations of this are.

In this example, the Infant looks towards the spectator, while the Virgin and Saint Joseph, like the angel, the angle of whose head echoes the latter's, bend down, their eyes almost closed, in silent devotion. This panel was dated to the mid-1520s by Roli (loc. cit), while Zama suggests a less specific chronology, 1518-30. The pose of the Child is related to the altarpiece of 1518 in the church of San Martino at Viadana, near Mantua, although it is arguably more successful in the deployment of the arms. A certain roundness in the types of both the Virgin and Saint Joseph also recalls the earlier works of Correggio which Zaganelli would no doubt have seen in 1519, when his altarpiece for the church of the Annunziata at Parma was completed and no doubt delivered.
Sold by what Christie's descriped as an "important" European collector, it had an interesting provenance beforehand as well:
A seal with the Habsburg arms establishes that the picture was exported from Northern Italy, under Austrian control between 1815 and 1866.

Wilhelm von Bode, from whom acquired by Murray Marks, Florence, 1884.

Vieweg collection, Brunswick.

Sale, Lepke, Berlin, 18 March 1930, lot 24.
Photo Credit: Courtesy of Christie's, with a little photoshoping to smooth the cracks by Paul