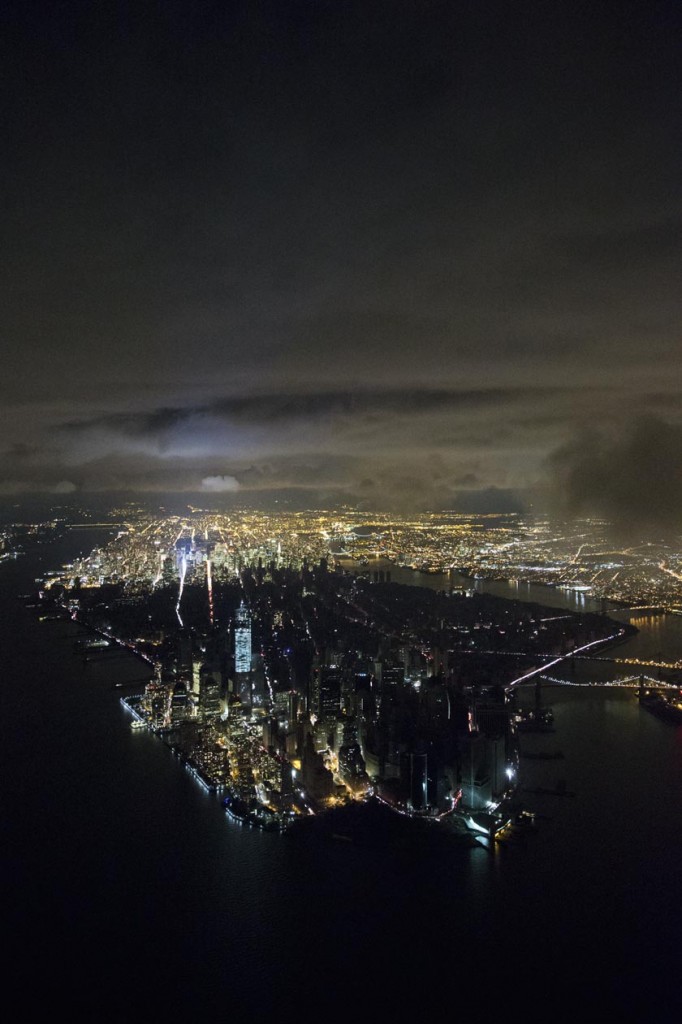 What's that old line about making good by doing good? It applies to Iwan Baan, the Dutch photographer who the day after Hurricane Sandy hit New York City took what turned out to be an iconic image from the air. It showed Manhattan half in the dark, half in the light, crystallizing the line already in circulation that New York was a tale of two cities. New York Magazine commissioned the photo for its Nov. 12 cover.
Baan is an established architecture photographer who now, because of that image, called The City and the Storm, has made the leap into the art gallery world. He was picked up recently by Perry Rubenstein, and will have an exhibition at Rubenstein's  Los Angeles space beginning Feb. 20.
But here's the doing good part:
Baan has created an artwork based on this powerful image — a large format artwork (70-3/4 x 47-1/4 inches) in an edition of 10. It will be shown at the Rubenstein Gallery's upcoming exhibition of Baan's work titled The Way We Live. The edition will be sold for $100,000 each to benefit the Mayor's Fund To Advance New York City in support of Hurricane Sandy relief efforts (nyc.gov/fund). And the Museum of Modern Art, in cooperation with Iwan Baan and Perry Rubenstein Gallery, has issued a poster of The City and the Storm, that will also support relief efforts. More information at MoMAstore.org.
Previously, Baan's work had been shown in the Museum of Modern Art's exhibition, Small Scale, Big Change: New Architectures of Social Engagement, and in the Carnegie Museum of Art's, White Cube, Green Maze: New Art Landscapes, according to a press release from Rubenstein.
His generosity toward the city was noted by noneother than Mayor Bloomberg, who is quoted in the  release saying: "Iwan Baan's powerful and now iconic image brought to life one of the many devastating effects our City experienced in the aftermath of Hurricane Sandy. Baan's first exhibition at the Perry Rubenstein Gallery will not only share his images but help support our City's efforts to recover from this devastating storm through their generous contribution to the Mayor's Fund."
Baan doesn't even live in New York.
Photo Credit: Courtesy of Perry Rubenstein Gallery