I had a hunch it was time to check in on the contemporary art situation in Egypt, given that the new Islamist-drafted constitution passed recently, handing a victory to the Muslim Brotherhood. I can only report what I read elsewhere, and that news isn't great.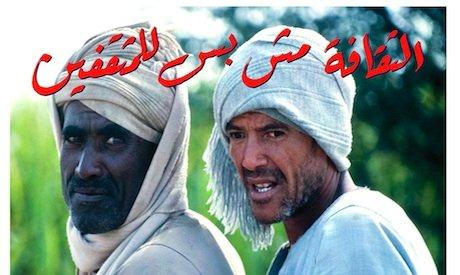 Last week, the online English edition of Al Ahram published an article rounding up what's happened in the Egyptian art world over the past year in a piece headlined Artists and Islamists Going Head to Head. It began:
Islamists' attack on arts and culture in Egypt since they came into power has manifested in several cases of conflict between Islamist sheikhs and politicians.

The Islamist stances vary between accepting only "art with a purpose," to not having an issue with art as long as some restrictions are put on nudity and controversial topics. A more extreme Islamist stance sees artistic expression as a form of Westernisation that promotes values not in line with Egyptian Islamic tradition. Not only did sheikhs attack the arts, but so was it attacked on the streets, where Muslim Brotherhood and Salafist supporters had direct confrontations with artists, at times even impeding them from their work.
At year-end, it was a standoff, but with a few surprises. For one, last Sept. 6, President Mohamed Morsi met in an open meeting with artists — at the Presidential Palace. Morsi reportedly told the artists and writers who attended that the government values their work and that it's a "major pillar of Egyptian society." Yet some boycotted. Why? One, "renowned actress Samira Ahmed" … "told Al-Ahram Arabic-language newspaper she would not attend such meetings until real action is taken against everyone who insulted artists." Morsi didn't please Islamic preachers either —
Sheikh Wagdy Ghoneim, who publishes many controversial videos on his YouTube channels, released a video entitled Is this Art? denouncing Morsi's move to build bridges with artists, whom he calls "immoral." He also charges that Egypt was a civil state and that it should follow sharia (Islamic law): the reason many voted Morsi into power according to Ghoneim.
And so it went. The article provides several instances of artists asserting themselves, and Islamicist fighting back — against new films, visual art, writing. It ends on a positive note:
The Culture Resource (Al-Mawred Al-Thaqafy) just launched a campaign called "A Culture for All Egyptians" with posters (pictured above) all over the streets and media campaigns affirming people's right to be part of the culture movement: culture with no boundaries on artistic expression. The campaign aims to make these changes in culture policies and law to give people a chance to be part of the artistic movement.
Can this campaign be believed? It would be a step forward (see the article at that link), but that's unclear. Over the past couple of years, museums in the U.S. and Europe have made great efforts to increase the presence of Islamic art on view — and many have taken that drive into contemporary art as well. We are so vigilant when the Chinese suppress art; we should be just as vigilant in the Middle East.