Here's an interesting turn of events. Hauser & Wirth, a gallery that represents such artists as Martin Creed, Diana Thater, Ron Mueck, Roni Horn, the estates of Eva Hesse and others, etc., etc. is adding a new venue: on the edge of Bruton.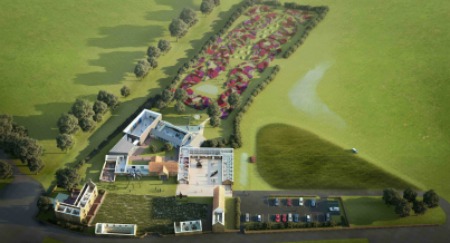 That's in Somerset, the UK, and as the Guardian recently put it, "eight miles south of Shepton Mallet, convenient for the A303 and Bristol-Weymouth railway line."
Yes, this is Hauser & Wirth, which currently has galleries in Zuruch, London and New York. The move is akin to the Museum of Modern Art deciding it needs a branch in, say, La Jolla. Here's an excerpt from the article:
"This is a beautiful part of the world and also a very creative part of the world," said Alice Workman, who will be in charge of Hauser & Wirth Somerset. It will consist of a gallery and arts centre which "will serve the local community and town but also act on a national and international level"….

Somerset does not have any significant contemporary art galleries, said Workman. "We've got a great arts scene in Bath and Bristol but they are a good hour away."
Hauser & Wirth say they expect about 40,000 visitors a year to this outpost.
I like the move — it's bold, has potential to draw more people to art, and aims to inspire the gallery's artists, some of whom have already used the property as a retreat. It dates to 1760 and was originally a "model farm," with "a cowshed, a piggery, stables, barns, a farmhouse and land – but most of it is in a terrible state of disrepair with some buildings not safe to enter."
It needs work, obviously, with the opening set for summer, 2014. Could it be a model?
Photo Credit: Courtesy of the Guardian