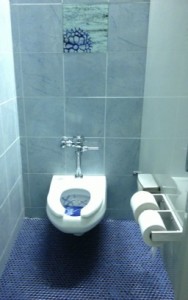 Last week, I visited the Smith College Museum of Art for the first time — my loss — and it made me laugh as well as appreciate what I saw. The collection is fine — among college museums, it's really quite good. But I came away with good feelings about it for a different reason: It's the first museum I know that pushed the idea of art down to nitty-gritty details. And I mean nitty-gritty — those of you who have been there know what I'm talking about. The museum's lower-level bathrooms were designed by artists, and I've never seen that before.
Ok, this isn't new (except to me) — the museum opened in its current location in 2003. And maybe it received attention at the time. But the idea is clever and shows original thinking. Another example of that — Smith put 12 artist-designed, handcrafted benches in the galleries (sample below left). I love that. Last year, on another visit to New England, I discovered that the New Britain Museum of American Art also used hand-crafted seating in its galleries. The curious — some were truly lovely — could have obtained a list of those artists, as I recall (in case they'd like to purchase works from them? I'm not sure) from the receptionist/information desk.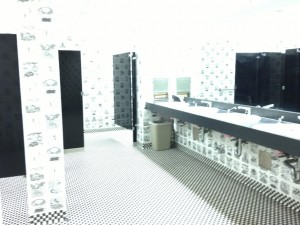 At Smith, the benches merit labels just like the paintings and sculpture on view, except that they are outlined in yellow (which makes them easier to find).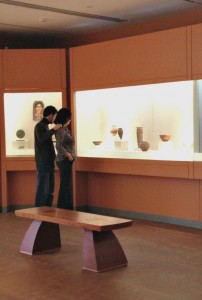 At left, above, is a shot of the ladies' room — the facilities were so beautiful that the pictures are not indelicate. At right is the men's room — which I asked a staff member if I could visit, hardly an unusual request. (Still, I took the picture too quickly to focus properly!)
Ah, the artists' names… I can't find them at the moment.  If and when I do, I'll update this.
But you get the point — what a fine idea to make visitors realize that art, real art, can be found throughout a museum.