Museums depend, in many situations, on showing excavated objects — they just aren't usually objects made less than 100 years ago (which, by standard definition, don't even count as antiques).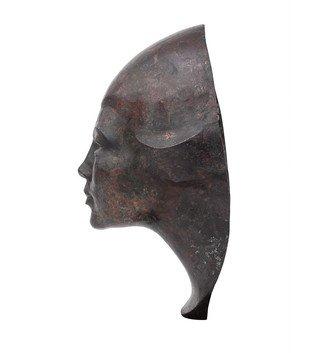 Nonetheless, last week, Munich's Neue Pinakothek opened just such an exhibition — noteworthy because of the tale behind it. It's called Degenerate Art: The 2010 Berlin Sculpture Find.  Perhaps you know the story, Munich is the third venue, but the find has grown since the found objects were first shown in Berlin in November, 2010, at the  Neues Museum on Museum Island.
The sculptures — 11 in Berlin, but now up to 16 in Munich, were discovered accidentally in an excavation directly opposite Berlin's town hall, the Rotes Rathaus, in the city's historical center — "hidden in the bomb debris of a residential building for decades since the end of World War II." The digs were carried out because the U5 underground line was to be extended from Alexanderplatz to Brandenburg Gate.
As you've guessed by now, these modernist pieces were seized from museums by Hitler's henchmen, and their whereabouts unknown. They were given up for lost by many until archaeologists unearthed them two years ago. Berlin's show included, along with two unattributed works:
• Otto Baum, Girl Standing, 1930
• Karl Ehlers, A standing robed figure with a bunch of grapes, 1933
• Otto Freundlich, Head, 1925
• Karl Knappe, Hagar, 1923
• Marg Moll, Dancer, around 1930
• Emy Roeder, Pregnant Woman, 1918
• Edwin Scharff, Portrait of the Actress Anni Mewes, 1917/1921 (shown here from side and front)
• Gustav Heinrich Wolff, Robed Figure Standing, 1925
• Naum Slutzky, Female Bust, before 1931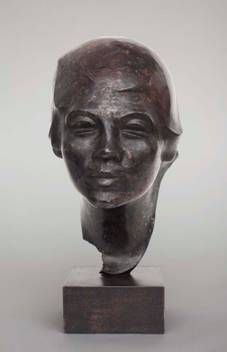 According to the story told by the Pinokothek:
Under the direction of Adolf Ziegler, the President of the Reichskammer der Bildenden Künste, the first 'Kommission' confiscated 14 paintings and one sculpture by Max Beckmann, Heinrich Campendonk, Karl Caspar, Lovis Corinth, Josef Eberz, Oskar Kokoschka, Franz Marc, Emil Nolde, Hans Purrmann, Edwin Scharff, Georg Schrimpf, Karl Schmidt-Rottluff and Paul Thalheimer on 9 July, 1937, from premises of the Bayerische Staatsgemäldesammlungen.

On 25 August, the second 'Kommission', under the direction of the Landesleiter of the Reichskunstkammer in Franconia and the Landesleiter of the Reichskammer in Bavaria, confiscated a further 110 works from the depots of the Alte Pinakothek, the Neue Staatsgalerie on Königsplatz (now the Antikensammlung) and the library building at the Deutsches Museum. A total of 137 were confiscated by the 'Kommissionen' in Munich in 1937 and taken away in three lorries to the Haus der Kunst in Berlin and the Reichskammer der Bildenden Künste, Köpenickerstr. 24a, also in Berlin.
Of all that, less than 5% has been recovered.
The Mewes portrait bust above was the first to emerge in the excavation, a bit more of which is told here.  The Munich musuem did not list the five scultures new to this exhibition in press materials, nor online.
Photo Credits: Courtesy of the Neue Pinokothek