I hadn't planned to write about Chelsea, because I haven't been down there yet. But all day long, I've received emails from galleries announcing exhibition openings and returns to life.
Which is not what I expected. The first email I received from there today was bleak. Wrote one correspondent: "[The area] is truly a disaster, lost art, lost galleries, lost businesses, massive destruction.  Where is the press on this? … It is an economic story as well as an art story, and it is a human story."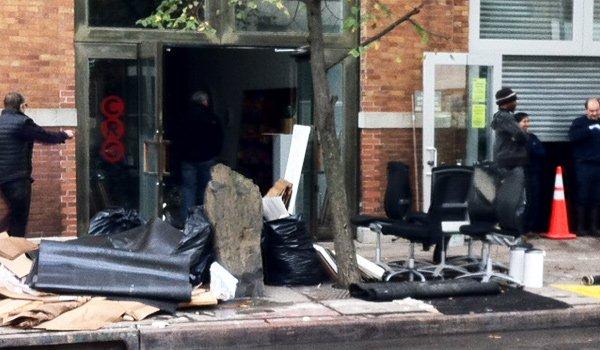 I pointed out that The New York Times, The Wall Street Journal, Bloomberg, Reuters, New York Magazine, and many others — some posted here via links — have been writing about it. But nevermind: when one is feeling beleagered, one wants attention.
And today, CNN chimed in with this report, citing dealer Leo Koenig saying, "I would not be surprised if, when it's all said and done, the damage that is done to our art world will be in the hundreds and hundreds of millions of dollars in unrecoverable work."
Then the good news began to arrive. C24 Gallery, on W. 24th St., is opening an exhibit of work by Ali Kazma on Wednesday; Maccarone gallery will open an exhibition by Edgar Arceneaux on Nov. 10; Metro Pictures postponed the opening of Gary Simmons, but said its upstairs gallery will be opening soon; the New Museum reopened over this past weekend; Carmichael Gallery is opening a show by Eriberto and Estevan Oriol on Nov. 8, and so on. David Zwirner wrote saying his gallery will reopen on Friday, Nov.. 9.
Being the master of public relations that he is, Zwirner also wrote a "personal letter" that said, among other things:
As you surely know by now, Hurricane Sandy wreaked havoc on New York City's Chelsea gallery district. Virtually all the galleries in the area sustained flooding, resulting in damages to spaces and art.

The rescue and rebuilding efforts that got underway immediately after the storm have been extraordinary, and we have been moved by the outpouring of sympathy and support not only from the artists of the gallery but also from the art community at large. Thank you! …

…As telephone lines in the area are still being repaired, you might have a hard time reaching us on our land line so we would encourage you to contact us via email or cell phone instead.

We are very much looking forward to hearing from you or, even better, welcoming you here on 19th Street in Chelsea.
If you're in New York, another fine art offer came out this afternoon; many museums waived their admission charges last week, and today the Neue Galerie — way uptown, and there out of the problem area —  "free admission to its galleries. Café Sabarsky's chef Kurt Gutenbrunner and his team will serve complementary Glühwein and hot mulled cider in the lobby. This special offering is made to our visitors in recognition of the recent events brought on by Hurricane Sandy."
UPDATED: Jerry Saltz is singing a similar tune on New York Magazine's website.
Photo Credit: CRG Gallery, Courtesy of Art Info