I'm back from a trip to the UK — where I saw much that I hope to write about, some here — and one sad story I learned of while there concerns the east London town of Tower Hamlets, which has voted to sell off a Henry Moore sculpture, Draped Seated Woman. The town, quite poor, is facing budget cuts and wants to use the proceeds to make up the cuts. Christie's got the consignment and will sell the work in February.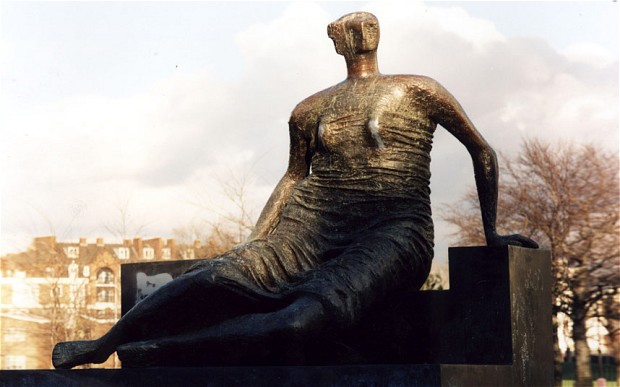 The town council is expecting to raise some $30 million from it, but as The Telegraph points out, the expectation may be built on a lack of understanding of the art market. The "comparable" example that whetted the town's appetite occurred last February for about that amount, but "the estimate on that sculpture was only 3.5 million to 4.5 million pounds, and the eventual sale was driven by competition between two bidders, the winner being a dealer who represents Russian collectors. If that collector was not bidding, it would have sold for less than half the eventual price, and they[sic], presumably, are now out of the equation."
Furthermore, the Telegraph notes, the previous comparable, a sculpture called Draped Reclining Woman, fetched the equivalent of about $6 to $7 million in 2008.
It's reasonable to question whether the town council would sell the piece for that price — which is not enough to cover it projected lost funds.
Moore sold his piece to the city for a price below market value in the 1960s. Artists, Moore's daughter, Sir Nicholas Serota and other have protested the sale, but to no avail. Part of the problem, however, may be that the work has been on loan to the Yorkshire Scultpure Park, not on view in Tower Hamlets. According to the BBC, "the sculpture was moved after the Tower Hamlets housing estate in which it was housed was demolished in the late 1990s."
Sadly, this is not a separate case. As previous Telegraph article related:
The sculpture is the latest in a burgeoning list of sales of public artworks by councils. Last year, Bolton Council sold seven works of art, including a painting by John Everett Millais, while Newcastle City Council put £270,000 of publicly funded artwork for sale on eBay, and Gloucester city council approved plans to sell 14 works of art valued at £381,000.
But I wonder if these public sales are built on false hopes.
Photo Credit: Courtesy of the Press Association via The Telegraph