Art is often said to have healing powers, and beginning tomorrow many people who live in the path of Hurricane Sandy — which struck a month ago — will have a chance to see a piece of art created for them. It's a "monumental" laser installation by Yvette Mattern called Global Rainbow, After the Storm, launched from the rooftop of the Standard Hotel at the Highline. Designed to illuminate the night sky and be visible for up to 35 miles (depending on atmospheric conditions), the work will aim seven beams of high power light lasers over communities hit by Sandy. It "aims to symbolize hope and act as a call to action to support the communities that were devastated by the storm," according to the press release.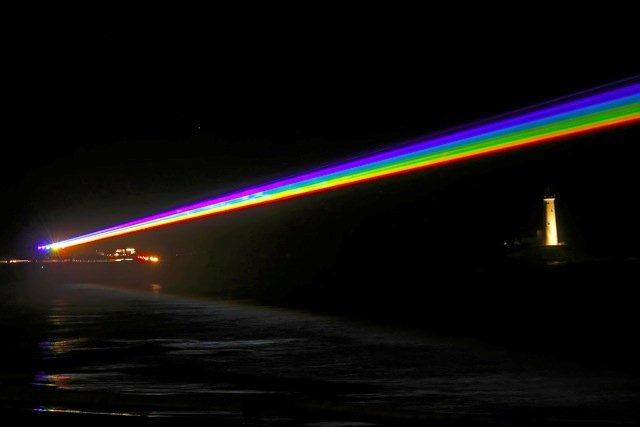 Mattern's installation, which has been presented in Europe (you may have seen it at the London Olympics), will shine for three nights, from 8 p.m. to 2 a.m. nightly, from Nov. 27 through Nov. 29.
It's a project of the Art Production Fund, and — naturally, given the occasion — it contains a fundraising element. It hopes to encourage donations to two groups. One is Waves for Water, a non-profit that has been working with relief organizations in coastal communities in Staten Island, New Jersey, Rockaway Beach and Long Beach  to bring much needed on-site support to victims. (You can make donations at the link above.). The other is New York Foundation for the Arts, whose Emergency Relief Fund is assisting artists who suffered damage and loss in Sandy's wake. (Use this link, and be sure to click the box for the relief fund at the bottom.)
In the release, Mattern says, "I hope that seeing this beacon in the night sky will provide people with a sense of peace and security in this time of crisis and that it will unify us with its presence so we remember that we are all in this together, regardless of divisions of class, race, religion and culture."
That's asking a lot of art, but … at times like these, it's nice to remember that art can have a higher purpose and a universal appeal.
Photo Credit: Courtesy of the Art Production Fund